Canva is an amazing graphic designing tool. It can make your blog posts more lively by simply giving you endless possibilities. You may use different photo editing tools to edit your images but for WordPress sites, Canva does magic.
You can get stylish ready-made fonts, amazing graphics and thematic templates. These templates make you free from the hassle of creating templates on your own on WordPress. The interesting fact about Canva is that you may take your editing skills to new heights without having prior knowledge of designing images.
Canva astounding templates help you to advertise your feature images by making them more attractive and thematic. Not only this, you can also design your social media images, watermarks, blog headers and hero images with Canva on WordPress. You can certainly attract visitors to your wordpress website with these images.
How To Install Canva On WordPress?
To get the benefits of Canva you need to add it on WordPress. But the question is how to Integrate it on WordPress? To get an answer to this question follow these simple steps.
Login to your WordPress site. If you don't have a WordPress site then create first.
Once you are login to your WordPress site, navigate to the Plugin area.
Search for the WordPress Canva Plugin. You can also get the Canva plugin for WordPress from Canva official site and then ask for an API key later on.
Install the downloaded plugin on your WordPress.
A bluish-green shaded button will appear on your dashboard, next to the "Add Media" button.
Click on the "Design in Canva" button.
Add your login details here.
Now you have access to Canva design and templates. Select, edit and then save these templates. Once the templates are saved in your library, publish them on your WordPress site and give your posts a new life.
How To Design Blog Images For WordPress Using Canva?
You may create appealing blog images for your WordPress in the following way.
Login to your account.
Navigate to the Canva plugin
Choose image dimensions from already available sizes or click on the Facebook ad option. The Facebook ad option will provide you with precise sizes for sharing your blog images on social media.
Choose your background image from Pixabay, Unsplash, or MyStock.Photos and upload it to your Canva.
Once uploaded, drag the image to your Canva design.
You can also change the style of the background by clicking the filter on the top left corner.
Edit your font size, style, color from the available options.
Add additional text from the Text tab, if required. If your text is not attractive you may add an overlay from Elements → Shapes. 
Also add some non-text elements like logos, from available options or export your own by uploading them.
Click Publish, the image will be saved in your library.
 After previewing, you can make it live on your WordPress sites.
Related Article: 7 Simple Steps to Secure your WordPress Website
How To Embed Canva In WordPress?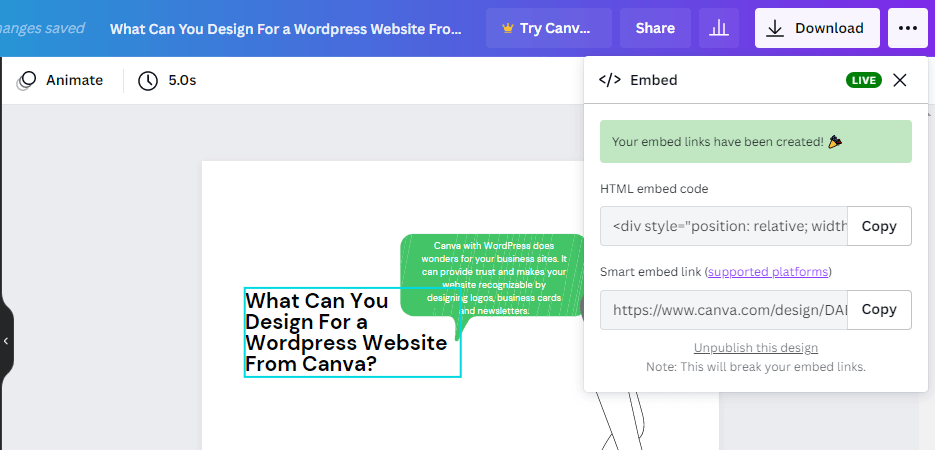 As we all know that the hosting space on WordPress is limited. Luckily, you can simply embed the designs in your WordPress website using Canva.
Go to the three dots on the top right corner of your Canva interface and write "embed".
HTML code will appear for the selected image you want to embed.
Copy the HTML code and paste it on your WordPress site where you want it to appear.
The image will appear in your selected area.
What Can You Design For a WordPress Website From Canva?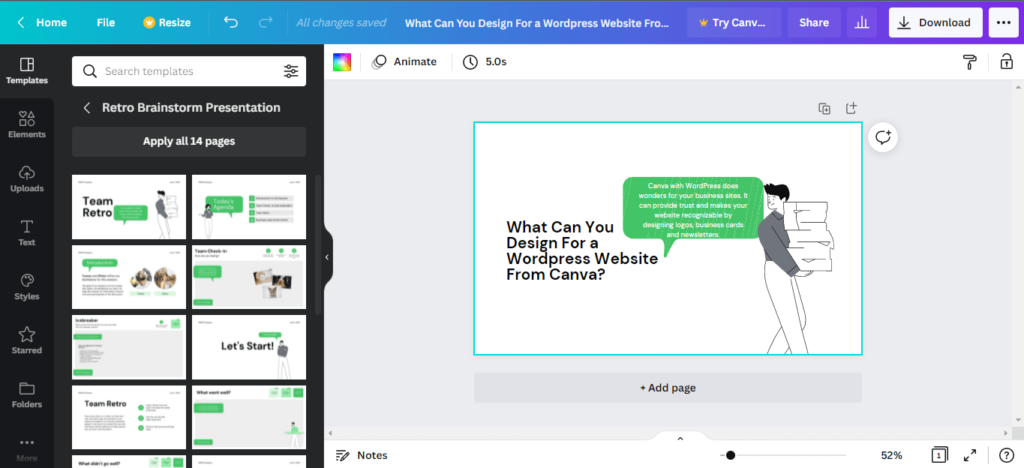 Canva with WordPress does wonders for your business sites. It can provide trust and makes your website recognizable by designing logos, business cards and newsletters. All of these three branding materials will be created with unique designs. You may share them on social media and do professional advertisements of your business for free.
For this, all you need to do is go to your templates and then click logos/business cards/newsletters, which you want to create. There is also premium membership available which gives you access to more appealing and customized templates.
No matter how informative and useful your published content is, if it's not having amazing and relevant images, the audience will not find it interesting. This leads to low SEO ranking of your websites.
To save you from this critical situation, Canva provides you to design hero images, web page graphics, blog post titles, website headers and infographics.
Hero Images
Your front image is the first thing the audience sees when they land on your page. Canva offers you to design stylish and amazing Hero images.
Infographics
Infographics also help the users to absorb the listed information easily. These graphics not only make your content easily readable but also provide opportunity to users to share your web page instantly. As a result, you may hit two birds with one stone.
Blog Post Titles
These illustrations can encourage visitors to read your textual material by persuading them.
Website Headers
These graphics have the ability to make an immediate impression on readers and help define the style for your website.
To accomplish this, navigate to the templates and then select homepage/ webpage/ infographics and select a unique template. Edit the template you want and publish it.
What Features Does Canva Offer On WordPress?
Canva makes editing your blog posts and images easy. It is because
You won't have to leave your WordPress account if you need to create a design for your post. Just click the Canva design button on your WordPress and blank Canva emerges.
You may use Canva's $10 credit package with WordPress. It is because this package is only available for WordPress users.
You don't need to download the image after designing in order to upload it on your WordPress website. This saves your device memory. When you click Publish, after designing, the image will be saved automatically into your WordPress media library.
Challenges While Using Canva On WordPress
Though installing the Canva WordPress plugin is easy, you may find challenges in the later process if you are a beginner. Let's have a look at these common challenges.
1. Wait For Application Approval
You must wait for permission from the Canva spokesperson team after the plugin has been successfully installed. When you sign up for a Canva account, you'll be asked to wait until you receive an API code. You'll be able to access the Canva templates once you've obtained the code.
Therefore, the beginners may hesitate when using this plugin. Once installed, creation of unique templates for your WordPress site is pretty easy.
2. Not Able To Edit Size On Plugin
Despite the fact that the Canva plugin offers you access to an unlimited number of templates on WordPress, the size range of these templates is limited. But worry not as we have brought a solution to it.
You can simply add different sized templates from the official site of Canva. To do so, first go to Canva official site and then export the design to WordPress in the required size.
This problem can also be handled if you contact the maintenance staff and ask them to allow the size editing feature in the plugin.
3. Disappearance of Templates
Many Canva Plugin customers have claimed that their templates have disappeared from their WordPress Media Library. As most of the Canva templates are free, you can download the selected template again. If the problem still persists, you may go for other designs.
Conclusion
To make your WordPress site more attractive and gain traffic you must focus on your WordPress graphics as well. The amazing graphics will make your audience absorb your WordPress site content at first glance.
Fortunately, the Canva graphics are totally free, so you must avail them right now. Enjoy the easy interface and give your content a professional look.
Also check out this article: How to Hide WordPress Admin Bar