We have a platform where we offer development and design services for startups. Our main clients are startups who want to create their product from the beginning. Our developers have excellent technical skills in web development using Python, MEAN, MERN, Blockchain, Ruby on Rails, iOS, and Android, as well as CMS platforms like WordPress, Shopify, and WIX.We specialize in providing dedicated remote teams to entrepreneurs, startups, and growing companies. Our aim is to become a preferred tech partner for companies that want to grow with a remote team. We make sure to closely align with our clients' requirements to achieve the best results. Our team consists of highly talented and experienced web developers who understand how to handle the technical aspects of any product. Our professionalism is evident through our track record of delivering high performance to various international clients. We promise to digitize your business in an innovative manner, making it user-friendly and helping your company stand out from the competition.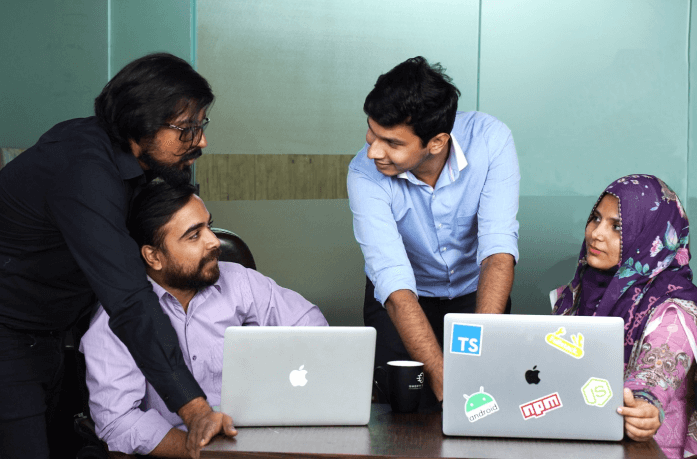 Our vision is to empower businesses through advanced technology and outstanding services. We aim to be the top provider of reliable and innovative IT solutions, assisting our clients in surpassing their competition and achieving their goals. By leveraging our expertise, we strive to drive digital transformation and help companies thrive in the ever-changing technological landscape. We envision a future where businesses can fully utilize technology to streamline operations, enhance customer experiences, and fuel growth. Through our commitment to excellence, collaboration, and customer-centric approach, we aspire to be the trusted partner that enables businesses to unlock their true potential and attain long-term success."
MEAN is best for building dynamic and scalable web applications. MEAN is a full-stack JavaScript technology that combines four powerful tools: MongoDB, Express.js, AngularJS, and Node.js.
MERN development refers to the use of the MERN stack (MongoDB, Express.js, React, Node.js) for building modern, full-stack web applications.
Python is a high-level programming language that can emphasizes code readability with its syntax that allows programmers to express concepts in fewer lines of code than other programming languages.and Node.js.
Ruby on Rails, often referred to as Rails, is a popular open-source web development framework written in Ruby. It follows the Model-View-Controller (MVC) architectural pattern and emphasizes convention over configuration, allowing developers to quickly build robust and scalable web applications. Rails promotes productivity and efficiency in building modern web applications.
Blockchain is a decentralized, tamper-proof ledger technology distributed ledger technology that enables secure and transparent record-keeping of transactions across a network of computers.
Best for business websites, blogs, portfolios, online communities, digital publishing, eCommerce stores, affiliate marketing, etc. WordPress is highly customizable and your all-in-one solution.
Shopify is a popular and well-regarded platform for building and managing e-commerce websites. It offers a comprehensive set of features, flexibility, and scalability, making it suitable for businesses of all sizes.
Known for its simplicity and user-friendliness, have us develop for you a site that you can manage and maintain by yourself. WiX even let's you build a fully-functional eCommerce store.
IOS development is the creation of mobile apps for Apple's iOS platform, used in iPhones, iPads, and iPods. It involves coding in Swift or Objective-C to build user-friendly apps that meet Apple's design standards. Developers use iOS frameworks, libraries, and tools to enhance performance, security, and compatibility across different Apple devices.
Android development is the creation of mobile apps for Android devices, involving designing and coding with Java or Kotlin, using the Android SDK and tools. The goal is to develop user-friendly and feature-rich applications for the extensive Android user community.
QA Engineer guarantees software quality by conducting thorough tests, reporting bugs, and collaborating with developers to fix issues, resulting in reliable software for users. They uphold product excellence, user satisfaction, and adherence to standards through rigorous testing and quality assurance procedures.
UI/UX (User Interface/User Experience) refers to the design and interaction of a digital product or service. It encompasses the visual elements (UI) and the overall experience (UX) that users have when interacting with a website, app, or software. A successful UI/UX strives to create intuitive, visually appealing, and user-centred designs that enhance usability and satisfaction.
Our company was founded with the vision of becoming the trusted tech partner for entrepreneurs and growing businesses. We are passionate about leveraging technology to transform businesses and drive their success. Our team's dedication, professionalism and client centric approach are the pillars of our company's growth. We strive to provide exception value to our clients and help them to achieve their goals in this rapidly evolving digital landscape.