Acquire exceptional UI/UX design solutions for your project by hiring a skilled UI/UX Engineer. Our talented designer guarantees excellent project management and ensures timely completion of your project.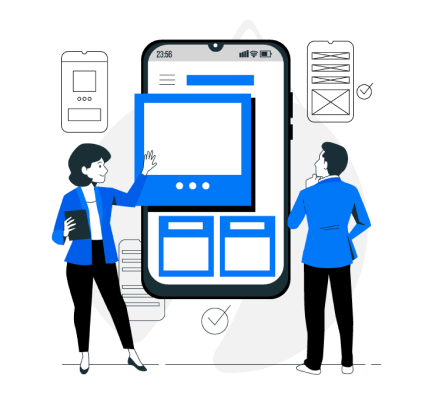 Services that we provide for UI/UX
Our UI/UX experts prioritize the needs and preferences of your users, creating designs that are intuitive, user-friendly, and engaging. We focus on delivering a seamless and delightful user experience.
WIREFRAMING AND PROTOTYPING
Our team excels in wireframing and prototyping, translating ideas into visual representations. We create interactive prototypes that allow you to visualize the flow and functionality of your product before development, ensuring a solid foundation for your design.
With a keen eye for aesthetics, our UI/UX experts craft visually appealing interfaces that align with your brand identity. We pay attention to color schemes, typography, and imagery to create visually stunning designs that captivate your users.