Drupal and WordPress are the leading Control Management systems that allow users to design their websites and manage them efficiently. Together, both of them hold 60 percent of website traffic on the internet.
If you plan to start your website, it's really important that you choose the right CMS for your website. The question is WordPress Vs. Drupal – Which One Is Better for you?
Both CMS run some of the most crucial websites around the globe, but still, both of them have their own pros and cons. If one program provides you ease in managing your website with less programming i.e., WordPress, then the other provides you more customization i.e., Drupal.
Let's compare both CMS in detail. At the end of this article, you will be able to make a quick and wise decision about which CMS is better for your website.
WordPress Vs. Drupal: A Side-By-Side Comparison
To better understand both CMS, read on a comprehensive comparison of both CMS program features.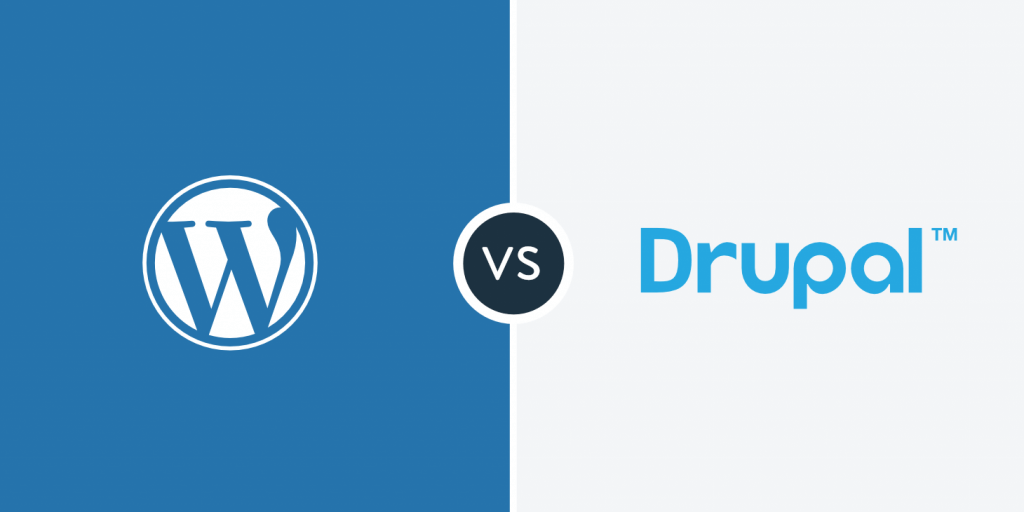 1. Ease of Use
Ease of use involves how complex a CMS program is. For beginners, they should always select such systems to design their websites that are easy to operate and involve no technical skills.
WordPress is handy to operate. There are thousands of built-in plugins which you can select from your dashboard and add to your websites. That's why small firms prefer WordPress because they don't need to hire web developer experts.
Drupal is also operational, but it involves some technical knowledge. If you don't know PHP language and coding, it will be difficult to manage your site with Drupal. Drupal involves installing and modifying modules to perform particular tasks. So, you can perform simple functions and edit your site, but you need to hire a web developer expert for managing your sites with Drupal.
2. Customization
WordPress lets you customize your websites with multiple existing templates and plugins. You can also modify these templates to customize websites according to your business theme.
But, if you need to customize the taxonomy of your content or other technical customizations, then Drupal is there for you. Using coding, you can change not only Drupal's modules but can also build your own customized content type. You can locate, install, and then set up these modules according to your preferences.
If you find it difficult to customize your content with Drupal, you can buy Drupal modules and add them to your Drupal site.
Hence we can say that Drupal offers more customization than WordPress.
Related article: 5 Must-Have WordPress Plugins for Beginners
3. Security
As we know that WordPress is controlling more traffic, so sites developed on it are more prone to hacking. Moreover, users install themes and plugins from third-party, which creates more security threats. Still, WordPress is putting efforts consistently to increase the security of WordPress sites. You can install some security plugins as well to make your content more secure.
On the other hand, Drupal sites are more secure from hackers. The reason is that Drupal is not flooded with site traffic. Therefore, most of the national websites are built on Drupal. You can always get frequent patches and alerts from Drupal whenever a security threat is found.
4. Pricing 
Both CMS is open-source and charge zero to use. However, you need to pay off a portion of the amount for hosting your website and registration.
WordPress is a great choice if you want no outside help and want to do all of the labor by yourself. It offers free plugins and themes. You can install premium themes as well, but they are paid.
Whereas Drupal is difficult to operate, so you need to pay extra charges for learning Drupal or hiring an outside expert.
5. SEO Compatibility
After building your site, the main thing you should consider is checking its compatibility with SEO.
WordPress sites are easy to update. You can change themes or edit your content easily. If you have installed WordPress, then your sites will be SEO optimized right out of the box. In addition, you can also install other SEO plugins like Yoast SEO and gain more traffic to your site.
On the other hand, Drupal is also SEO optimized. It is built with some integrated SEO features like built-in coaching. You can also install Yoast SEO through modules. However, editing Drupal sites to make them SEO optimized is not an easy job. Only developers can do site changes through coding. So, a novice user can't make his site SEO optimized with Drupal.
Conclusion
We may suggest that WordPress outperforms Drupal because it is more user-friendly. As a result, we recommend WordPress for creators who aren't coding or computing experts. Using a range of free plugins, you may easily design your site according to your business. If you're a developer looking for more customization, Drupal is a better fit and safer option than WordPress.
If you want a Professional WordPress developer then you can get benefit from QWERTY Experts Worpdress development services.