Wix Payments Review | Should You Use It? Complete Guide
Easy and flexible payment options are key to running your website successfully. There are several popular payment options for website payments, including PayPal, debit, and credit cards.
However, what if I tell you that there is a payment option where all the transactions will remain within your website and no third party will be involved? Yes, you read that right! This is made possible by the introduction of Wix payments.
We all are aware of the fact that Wix is our go-to site for website creation. To make payments even easier, it has introduced Wix payments. As a result, you can give your clients several payment options.
So, how to figure out if this is the perfect payment option for your business? Well, worry not. Let me take you through a detailed journey of Wix payment and
find out if this is a good option for you.
What Is Wix Payment?
Wix payments is a free, in-house payment option introduced by Wix. This can be used by only those users who have bought Wix's business plans. Although it eliminates the need for third parties in the payment process, you can use Paypal along with Wix payments too.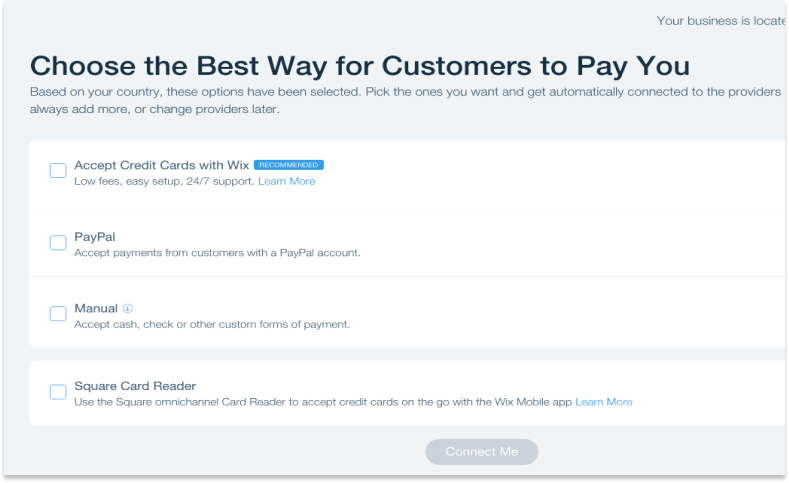 Wix Payment Fees
After setting up your Wix payment account, you will have to choose a subscription plan too. So let's see what payment plans are offered by Wix.

Wix Transaction Fee: What Do They Charge?
Wix payment does not charge you in terms of Wix transaction fee for its own payment operations. However, credit card payments, Stripe, and Paypal payment methods incur a processing fee. Now, how much does Wix charge per transaction? It charges the same as the other payment options which is 2.9% of the transaction on debit cards, credit cards, PayPal, and Stripe along with a $0.30 fixed amount.
To further aid its customers, Wix does not charge any setup fee. Moreover, unlike other payment processors, Wix does not charge a fee on chargebacks. Therefore, if a customer requested a chargeback, you won't have to contact the payment provider. Instead, you will receive a notification when the cashback is complete.
Payment Methods Accepted By Wix Payments
Wix payments accommodate a lot of payment methods. Using this, you can easily cater to customers around the globe.
Visa
Mastercard
Discover
AMEX
Diners
CUP
JCB
Maestro
Pay Now by Klarna for Austria, Belgium, Germany, Switzerland
iDeal for the Netherlands
Giropay for Germany
Wix payments is also working on multiple currencies which means that if you live in some other country, it will allow you to make transactions and accept payments in that country's currency. However, currently, only five currencies are functional in Wix payments.
Countries Where Wix Payment Is Applicable
As of yet, Wix payments are not available in all countries. So, below is a list of countries where Wix payments apply.
Australia
Belgium
Brazil
Finland
Germany
Ireland
Italy
Lithuania
Netherlands
Portugal
Spain
Switzerland
UK
USA
Wix Vs Other Payment Processors
Wix has both its merits and demerits when compared with other streamlined payment processors. However, the cons do not outweigh the pros in any way. Below is a comparison of various features of both Wix and other payment providers. So, let's see how these differ.

Pros Of Wix Payments
Wix payments are to make your website more user-friendly and flexible. Below are some pros of adding Wix payments to your retail website.
All Under One Roof
With Wix payments, all payment options are under one roof. Your customers can shop all they want and then checkout on the website without the involvement of any third party. And for the website owner, can easily check their funds and other account details on their website without having to log in to other payment processors.
Hassle-Free Checkout
Your customers need not be directed to some other page for checkout. This way they will be saved from the hassle and doubt of providing their personal details on a different website.
No Setup Or Chargeback Fee
Setting up your Wix payment is free. Moreover, neither you nor your customer needs to pay extra for a chargeback as Shopify charges $15 for a single reversal. Since there is no third-party involvement, the chargeback process will be smooth and quick.
Used With Other Payment Providers Too
It is not like you cannot use other payment options with Wix payments. The Wix payments also allow you to add other payment options for your clients. You can use PayPal or Stripe.
Cons Of Wix Payments
In addition to its pros, Wix payments also have some drawbacks. Let me address those too.
Not Available Everywhere
As compared to other payment processors, Wix payments are not available in all countries. Where PayPal is available in more than 200 countries, Wix payment has been introduced in only 14 countries and supports five currencies only.
Business Plan Owners
The Wix Payments service is not available to all businesses. So you need to go through the list to ensure your business does not fall in that category. Next the question arises if your business is acceptable by Wix, can you accept payments on Wix without a premium? The answer is that no, you cannot. If you do not have a Wix business plan, you cannot use Wix payment.
Short Setup Deadline
It requires you to finish setting up your account within 30 days of receiving the first payment. The inability to do so will result in all payments being refunded to the customers.
Lacks 24/7 Support
Its customer service is available only for 12 hours and that too from Monday to Friday only. Moreover, it is available in only three languages: English, Spanish, and Portuguese.
Conclusion
To avoid fraud and third-party interference, you can use Wix payment for your website. Apart from providing a more professional look to your website, it will also make payments for you and your clients much easier.
Conclusively, if you're looking to offer your visitors a seamless shopping experience, Wix Payments is a good option.If you have any issues regarding Wix payment you can get in touch with our Wix Experts.