Wix is popular among 110 million users because it outstands its competitors in terms of performance. Web developers can conveniently develop their site using Wix. Wix offers two products that you can utilize to create your site i.e., Wix Editor and Wix Adi.
Wix Editor is a more complicated and wide system that gives you full control over developing your website. You may get 510 various templates to start developing your site. So, you are not restricted to a specific business niche and start developing any business website using Wix Editor templates.
However, if you are thinking about what is ADI in Wix then Wix Artificial Design Intelligence (ADI) is a simpler, faster platform that provides consumers with an easier procedure.
Both provide web designing and editing services but Wix Editor is more strong while the Wix ADI is smarter. Let's have a quick review of Wix Adi Vs Editor so you may have a clear insight into which is better for you to use in 2022.
What's The Difference Between Wix ADI And Wix Editor?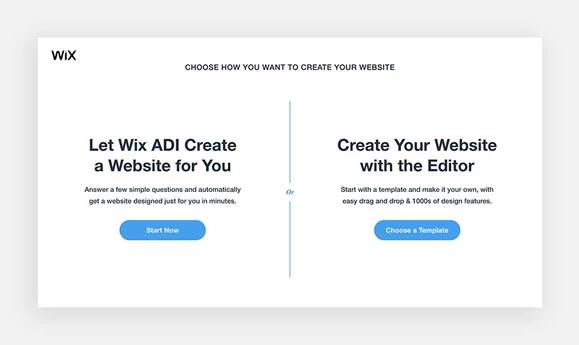 If you are confused and don't know whether to choose Wix Editor or Wix ADI then have a quick review of their differences.
The Wix AdI is quite useful in designing websites. Artificial intelligence acts as a laborer, advising developers on which design is most suited to a certain business. The proposed design follows the developer's style and includes customized features. The program recommends the best design by assessing your preferences and asking you a few questions at the start. Answering these questions may take some time, but they will not be difficult. In short, Wix ADI is simple to utilize for site creation.
On the other hand, Wix Editor is a functional website creation tool that uses a traditional copy and pastes technique. Users may change various aspects of Wix Editor, including Membership, Activities, Shops, and Product Manager. You may reorganize existing words and photos, and add or integrate audio and videos, which results in enhancing the look of your website. Don't panic if you're unsure what to put in each area. Wix Editor will present you with a text concept as well as the opportunity to adjust the text type and motion.
On the downside, Wix Editor is not for newbies because of its complex features.
Conclusively, Both Wix ADI and Wix Editor are intended for individuals with little experience making websites. Wix ADI, on the other hand, is a better choice in terms of usability. It provides a customized product based on the choices of the users. Furthermore, Wix ADI includes tutorials to navigate you through each stage of the process so that new users don't get confused.
2. Layout and Flexibility
Unfortunately, Wix ADI does not offer much customization to developers. They can only change the general color of their webpage in order to match the business logo, change the text font or include additional media on their pages.
In contrast, the Wix  Editor provides a vast variety of designs and offers maximum customization. Still, if you think that a specific theme is not available in Wix Editor, you can create one on your own in Wix Editor. So, you can enjoy the maximum control of your site. In addition, users may create layers, set a video as their backdrop, and add engaging objects using the copy and paste strategy. A little downside of Wix Editor is that modifying the mobile version will take a bit longer.
So, we can say in terms of layout and customization Wix Editor is superior to ADI.
In SEO regard, Wix Editor and Wix ADI are very identical. You may update your URLs, add alt text to pictures, and unique tags, and change meta titles/descriptions.
However, you cannot manage individual URL pages on Wix ADI, which makes it somewhat less desirable if you want your site to excel in SEO ranking.
Wix does not have two distinct assistance programs for ADI and Editor. That's why they are identical in terms of customer support. Wix provides three forms of support: an internet information center, a complaint system/call return system, and a social networking platform. This eCommerce platform offers help via customer service in eight languages, however only the English line is open 24 hours a day, seven days a week.
Wix Editor gives customers full access to its consumer market. You may select from various in-house and third-party applications to improve the user experience on your webpage. From event planning to communicating with clients, the Wix Marketplace has everything you need.
Whereas, Wix ADI limits the use of the app marketplace. If you want to add more apps while using ADI then you can switch to Wix Editor. But, make sure you've already completed work on ADI will be removed.
Conclusively, Wix Editor takes first place in this category, thanks to its capability to link the app market.
Both Wix ADI and Wix Editor are free to use. You can use the one you are more comfortable with.
Final Thoughts
I suggest using Wix Editor to develop your site would be a wise decision. It will take a little bit of time to comprehend the complexity of it but the end results will be more useful. However, if you are a novice and want to work in a stress-free zone then ADI can assist you. Once you have sufficient knowledge of website development, you can switch to Editor or you can opt for Qwerty experts Wix Website Design Services.
Relate article: WordPress or Wix: Which One Is Better for a Beginner?