Blockchain Developer For Hire
We offer Blockchain services that can include a wide range , from blockchain development and consulting services, to blockchain-based products and applications, to blockchain-based financial and investment services.In this Platforms that allow users to buy, sell, and trade cryptocurrencies, often with a variety of trading tools and features.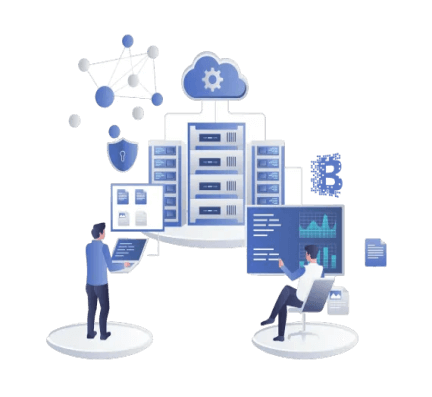 Services that we provide for BLOCKCHAIN Development
We have a team of experienced developers who specialize in smart contract development. We work closely with our clients to understand their requirements and develop customized solutions that meet their needs. Our smart contracts are designed to be secure, efficient, and reliable, ensuring that our clients can conduct their business transactions with confidence. Overall, smart contracts are a game-changer in the world of business transactions, and our company is committed to providing the best possible solutions for our clients using blockchain technology.
We provide consultation, design, development, testing, deployment, maintenance, and support for decentralized applications. We help clients build blockchain-based solutions that are secure, scalable, and optimized for performance. These services are offered by specialized companies or individuals with expertise in dApp development.
We offer Testnet development services in blockchain. A testnet is a separate blockchain network used for testing blockchain applications without using real cryptocurrencies. It involves setting up a network protocol, consensus rules, and nodes to simulate the main network. Testnets allow developers to identify and fix bugs before deploying on the main network.
We offer Mainnet development services in blockchain. The mainnet is the live and fully functional blockchain network that is publicly available and used for actual transactions. It is the network that is used to transfer real cryptocurrencies and has real economic value. Deploying blockchain applications on the mainnet involves following strict protocols and security measures to ensure the safety and integrity of the network.