Running an online store in this competitive market is not easy. You have to be vigilant while choosing a specific platform for your online business. Today, Shopify and OpenCart are gaining popularity in the eCommerce market because of the amazing features, reliability, and uniqueness they offer to your store. 
If you are going to open a new online store and are unsure which platform you should choose, stay relaxed! In this article, we compare OpenCart and Shopify as well. This comparison will help you to make a wise decision about which platform you should choose for your business.
What is OpenCart?
OpenCart is a non-proprietary and free open-source eCommerce software accessible by anyone worldwide. Business owners use this software to create their online stores for free and sell their products. This platform contains capabilities that allow you to manage your virtual store more effectively than your physical store. With this wonderful e-platform, managing orders, adapting consumer wants and advertising your own business is no longer a challenge.
Due to its worldwide availability and well-known payment and delivery methods, OpenCart is presently used by over 471,669 enterprises.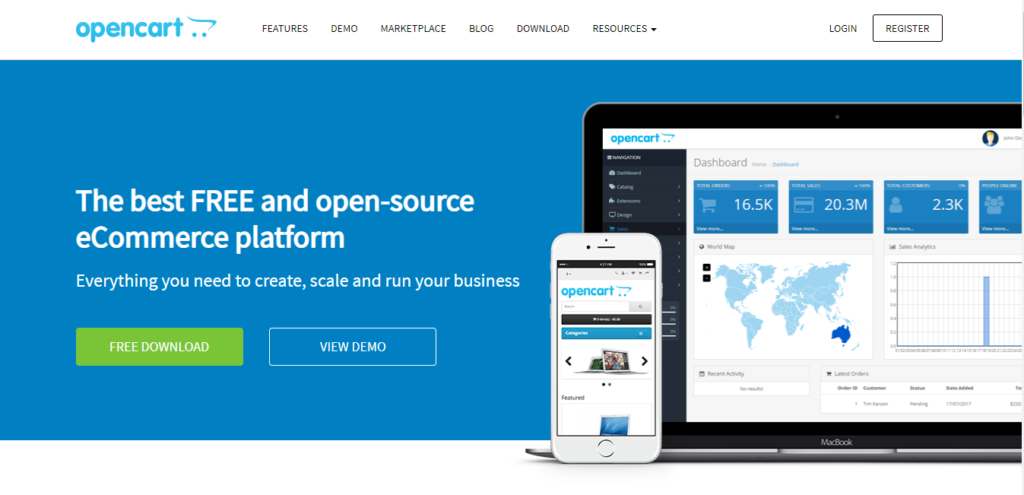 Features of OpenCart
Opencart website builder comes with the following surprises to make you a successful businessman in your own home.  
➜

Manage Permissions
When you run an OpenCart store, you normally manage it with your team or hire someone else to do it for you. You own the store, therefore you can simply restrict access to certain features for certain users. This restriction shields your vital information from prying eyes.
Furthermore, limiting access to certain persons makes the store run more smoothly because no one can change each other's work.
Furthermore, the admin dashboard allows you to keep track of your online stores and business websites with ease. You can also purchase several reporting tools from the admin dashboard for check and balance.
➜

Manage Multiple Stores
It may be challenging for you to manage many stores if you want to open more than one. OpenCart has overcome this issue by allowing users to manage many stores from a single admin interface. Through a single interface, you can easily change products and their pricing, select numerous themes, and adjust the settings of your multiple stores.
➜
SEO Friendly
Basic SEO functions are available in OpenCart. In order to make your store SEO-friendly, you'll need to add referrals, change metadata, and do some PHP code. You can add or purchase other plugins if you wish to use more premium features.
➜

Designs

OpenCart comes with several free built-in designs. There is also the option to purchase premium designs through OpenCart.
➜

Security

Anyone can use OpenCart because it is an open forum. As a result, you'll need to install additional plugins to secure your account. You can also use SSL to secure your admin panel.

Related article: How to Change Shopify Theme Without Losing Content
What is Shopify?
Shopify is a subscription-based web platform that allows you to create virtual stores and administer your company from the entire world. You can open actual businesses as well as virtual ones, thanks to Shopify's Point-of-Sale app.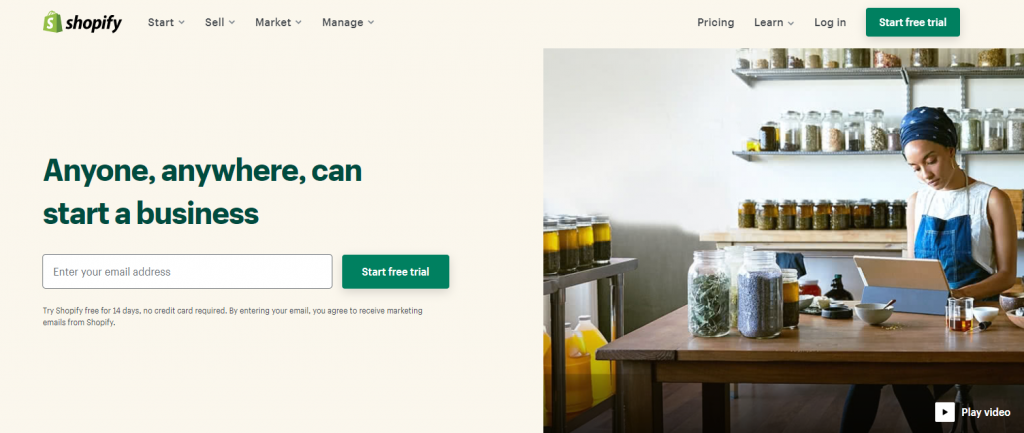 Features of Shopify
To give you a thorough understanding of Shopify Store, we have discussed its most practical features.
➜

SEO Tools

Multiple SEO tools are available for free in the Shopify store. This tool helps you improve the SEO ranking of your Shopify store, bringing more clients to your online store. You may change metadata, organize data for various search engines, and acquire traffic boosters for your website. 
➜

Perfect For Dropshipping

If you want to start a dropshipping business, Shopify is great because it allows users to connect with different wholesale suppliers worldwide. Orbelo is a well-known application for linking you with a variety of wholesalers available on Shopify.
➜

Analytics

You can get intuitive analytics to assess your virtual shops and stores. Having proper knowledge about customer activities, store sales, and marketing, you can make more wise decisions about increasing your sales. 
➜

Security

Shopify Stores comes with built-in SSL, which is already enabled. Shopify lets you start more secured online stores if you are a beginner.  
➜

Shopify Themes

Shopify provides 100 free templates and themes. You can create and install plugins for customizing themes if you wish. 
Comparison of OpenCart Vs. Shopify
As we have seen, both platforms help open your online store. To give you a closer look, we have compared Shopify and open cart features in detail.  
➜

Level of information

Even though OpenCart is free and open-source, you will need more technical knowledge to manage and personalize your site. Simultaneously, Shopify offers subscription-based frameworks that allow you to create personalized websites with just a few keystrokes. However, using a proprietary codebase will be problematic for certain new users.  
➜

Pricing

In terms of Pricing, OpenCart beats Shopify easily as it is free, whereas you have to pay monthly subscriptions for Shopify.  
➜

SEO tools

Shopify provides more built-in SEO tools to get more traffic. Whereas, OpenCart provides essential SEO tools for editing meta. You need to purchase plugins separately with OpenCart.  
➜

Themes

OpenCart provides limited themes, whereas Shopify offers five times more built-in themes to make your content more attractive. 
➜

Apps and Extensions

OpenCart provides you with far more extension options than Shopify. Moreover, the OpenCart extensions are more related to the eCommerce platform to benefit your business directly. On the other hand, Shopify apps let you perform common functions like drag and drop or AMP. 
➜

Management

Managing the sales and orders of your Shopify stores is a lot easier than it is with OpenCart. Because Shopify is a subscription-based service, it has more store management options at your fingertips. You can also install Shopify apps on your phones and manage your store from your laptop or mobile device. 
➜

Support

Shopify stores already come with a customer service team. Meanwhile, you must purchase an OpenCart support team through the OpenCart forums.
➜

Payment Method

OpenCart offers several free payment options. In contrast, you must pay transaction fees to withdraw money from your Shopify account.
Final Thoughts 
After reviewing what we have discussed, you may choose the one that most suits your needs. OpenCart provides a budget-free and more controlled platform, whereas Shopify offers more functionality with valuable features. So, if you want to run a small business, OpenCart is recommended. On the other hand, Shopify is perfect for small to large companies.