Shopify is a fantastic platform to build your website. Its multiple advantages are the main reason that millions of users are attracted to this amazing source. Among all, it is super easy to set up and offer customized design and themes to its consumers so that they can come up with appealing sites.
So, are you a Shopify user too, if yes then you might be among those users that hate to display the "powered by Shopify" tag right in front of their website. There can be numerous reasons for disliking this tag. No matter what the cause is many web owners are eager to know how to remove powered by Shopify.
Hence, to ease this ambiguity I have discussed everything related to this issue in this article. With these comprehensive details, you will get to know how to remove power by via multiple sources.
So, have a glance at the most famous and easiest ways then.
How to Remove Power by From Shopify?
Removing power by tag from Shopify can be a bit daunting. Sometimes web owners opt for hectic ways and end up affecting the quality of their website. Therefore, to protect you from this situation I have limited two most manageable ways by which you can easily remove power by.
Via Code
This process is easier among all, here is what you have to do to remove power by: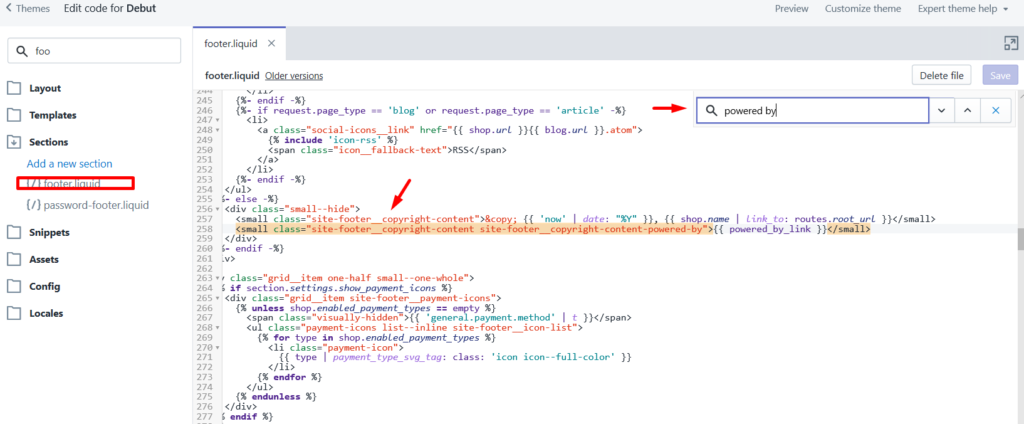 Login to your account and go to the dashboard to select the themes.
Locate the theme you want to edit and choose "edit code" from the drop-down actions.
On the next page open the folder named "footer. Liquid" and you will see coding on the right side.
Open that code and hit the command and F simultaneously.
After some time you will have "power by link."
Delete that code and "save" the changes.
By Edit Language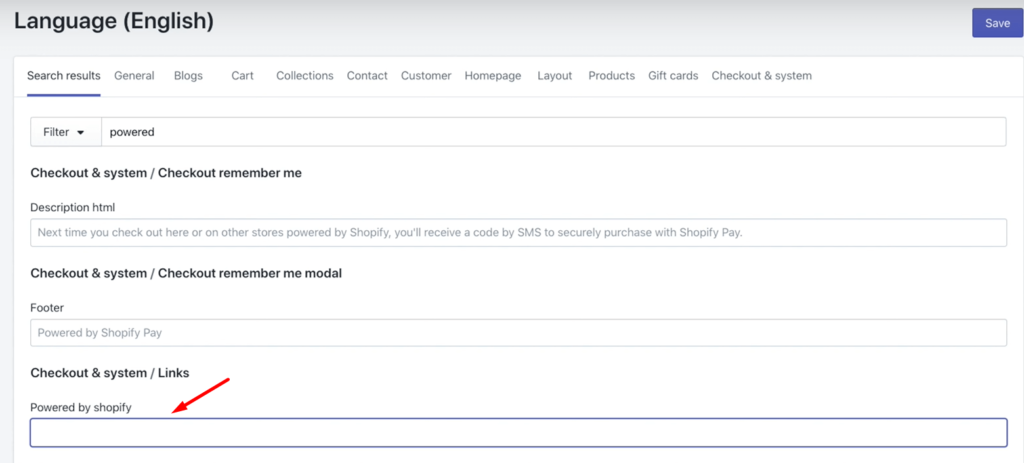 This process is suggested when the first one doesn't work. In this process, you must have to type the language to remove the power from your Shopify. You might get baffled about the language editing. So, see how you have to do actually here:
Login to your account and go to the dashboard to select the themes.
Locate the theme you want to edit and choose "edit language"
There type" powered" and you will see a blur power by Shopify box below the filter box.
Hit the space button and remove that text.
Once done, go to the upper right corner and "save" all the changes."
How To Remove Power By From Shopify via Mobile?
Sometimes web owners seek the easiest ways by which they can remove the power by in a few seconds on their mobile apps. Therefore, in this section I have shared the finest ways to do this process.
Head towards the shopify dashboard and go to the online store from the sales channel.
Once there, visit themes.
Pick the theme you want to edit and click on "actions/ language."
In the box given, type "powered" and remove the power by name.
Once done "save" the changes.
Why There Is A Need To Remove Power By From Shopify?
As power by represents that the following sites are created by Shopify. Hence, when it comes to removing the power by there can be numerous reasons depending on the web owner. However, the most basic could be that by removing this tag your branding remains consistent.
Moreover, the customers will face zero confusion and it will give your account more appealing looks. Along with all these reasons another vital cause is that it will restrict everyone from knowing that you are using a third-party platform for your business.
Verdict
Shopify is a reliable platform that allows website owners to build a dependable, appealing, and ranking website for their business. Still, there are some users that want to hide the power by a tagline that represents that they are Shopify users. Therefore, keeping in mind this reason Shopify has offered the features of removing powered by. So, above are the most accessible strands that will guide you to do this process efficiently.
FAQs
What does power by Shopify mean?
Power by is a tag displayed on the themes. Basically, this tag means that the website is built on Shopify. Moreover, when someone want to know about the third party user of any site they can easily see the powered by icon.
What are the best themes for shoplift?
Below are the finest Shopify themes:
District
Vendy
Roxxe.
Responsive.
Testament.
Icon.