How to Install WordPress Theme With Demo | Step by Step Guide
Starting from scratch is difficult as compared to starting with some initial content. Similarly, when you make a new website, naturally, you will want it to be perfect. A good website theme will make it easier to use and hence attract clients. However, at times it is hard to land a perfect theme. This is where demo WordPress themes come to your rescue.
A theme's demo content showcases all of its features. It gives you a sense of what your website would look like after it has been filled with content. A demo site contains sample text and images that you can add to your site for example and later change them with your own words and images. It is much easier to work with demo content than to start from scratch.
Installing WordPress themes using a demo is rather simple. To save you from pithy tutorials and long explanations, we brought you a simple yet comprehensive guide on How to Install WordPress themes with Demo. So, let's get this show on the road.
Installing WordPress Themes Using Admin Theme Search
This is one method to install WordPress themes. You can use this by following the steps mentioned below.
Step 1:
To find these themes you can go to the WordPress dashboard where you will find them under the WordPress themes.org sub-category. This can be done by signing in to your WordPress admin account.
Step 2:
After getting access to the directory, go to the appearance theme page and click the add new button which will take you to themes that are categorized as; popular, latest, or favorites. Finding a theme is easy if you know its name. All you will need to do is type its name in the search bar, and voila! The theme is right there for you.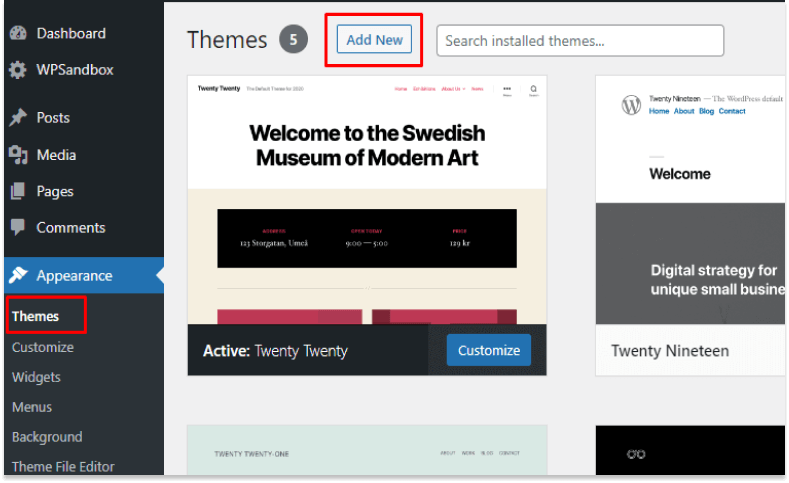 Another way to find your desired theme easily is by using the 'filter' option. A filter can be added based on subjects, features, or even a specific layout.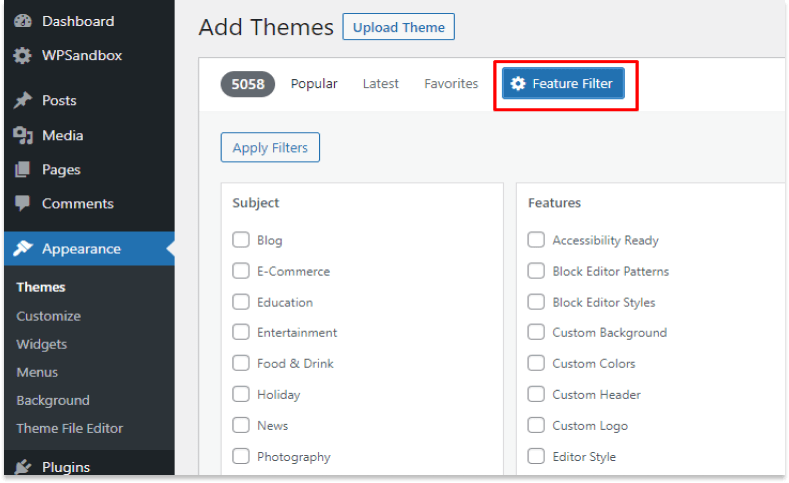 Step 3:
Once you are done browsing the themes and selecting one depending on your business or blog requirements, all you need to do is hover your mouse's cursor over the theme's image. This hovering motion reveals the options for previewing the theme and other details. Clicking on the install button will start your theme's installation right away. When done, WordPress will send you a 'successful installation message.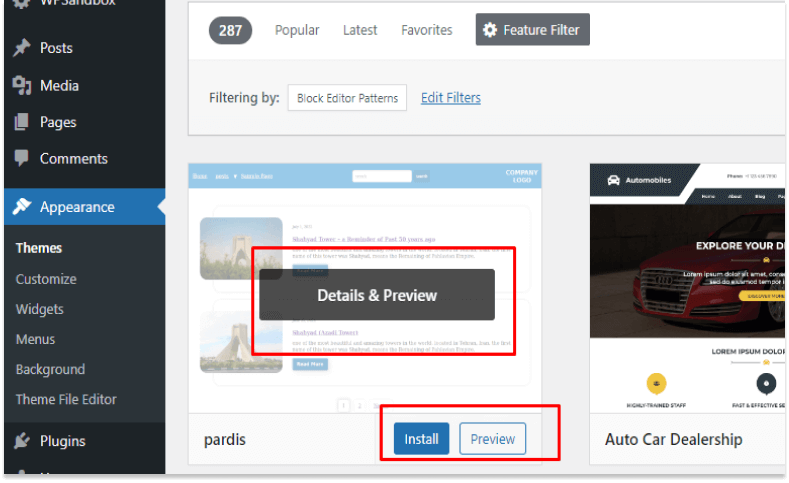 Step 4:
After you are done installing the theme, WordPress will show an activate button. Clicking on that option will activate the successfully installed WordPress theme. Once activated, your theme is ready with demo content to use on the website. In certain cases, WordPress may ask you to customize your theme with some additional settings. However, this is easy to do as all the instructions are present.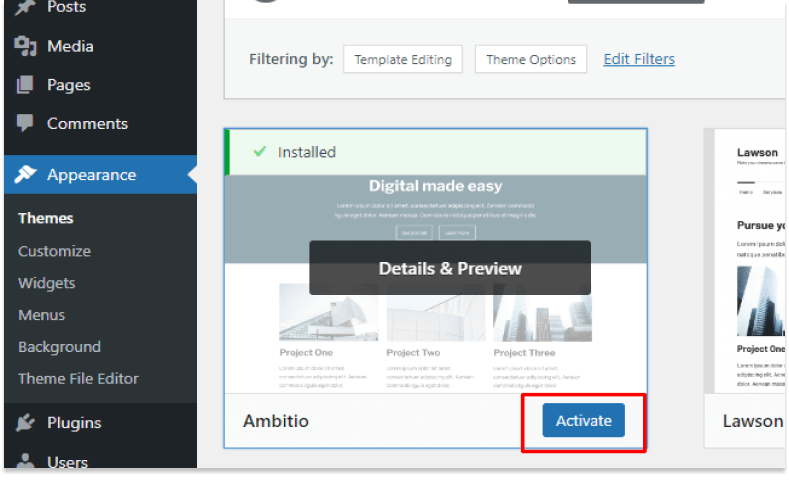 Installing Premium WordPress Themes
The method mentioned above is used for installing free themes. However, in case you want to get a premium or custom theme, it has a different method. Moreover, these are not free. These themes can be purchased from any marketplace and then used on your WordPress website.
Must Read This Guide: Why You Must Avoid Nulled WordPress Plugins And Themes
Step 1:
Once you have purchased your desired WordPress theme from a specific marketplace, all you need to do is start by downloading its zipped file in your WordPress.
Step 2:
Once the zipped file is downloaded and you have logged into your WordPress admin account, move to the appearance option and click the themes option. Here you will see an 'upload theme' option. Clicking this will bring forth your customized theme. Clicking on the installation button will start its installation.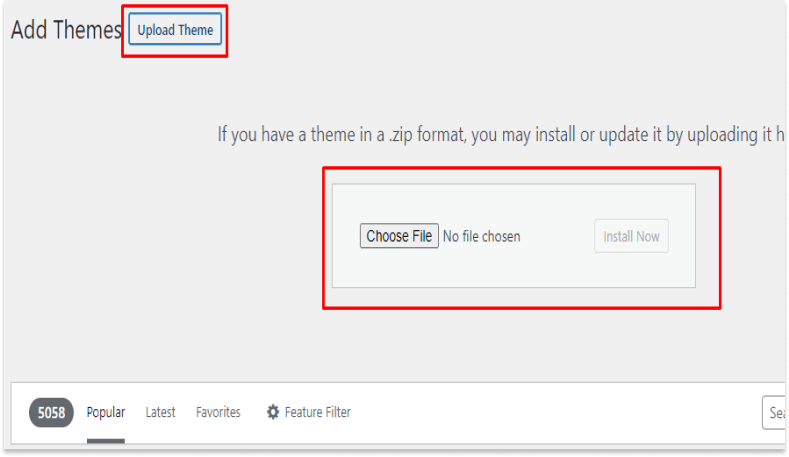 Step 3:
Once installed, look for the 'activate' option. Selecting this will start running the theme on your WordPress site and you can use it.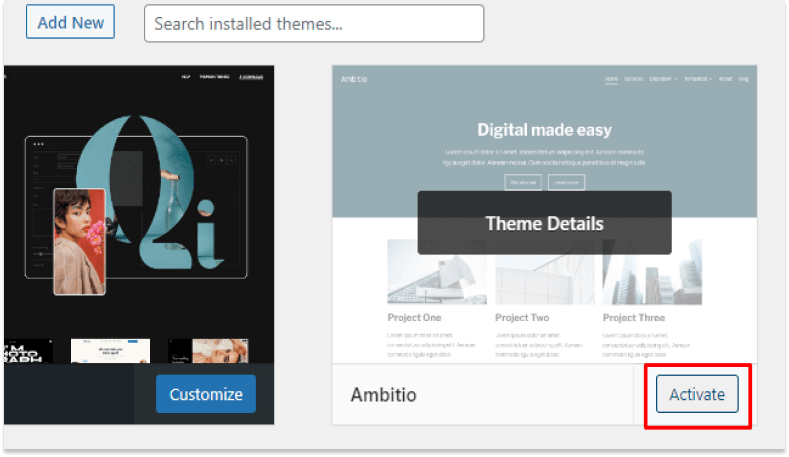 Adding Demo Content To WordPress Website
Adding demo content to your WordPress website is not a difficult task. Once you have installed the desired theme and activated it on your homepage, you will see two options after activation.
Option 1: Add Theme Only
If you select this option, then demo content will not be added to your homepage. Instead, only the theme will be presented with no content if the site is new or with your previous content in case you have replaced the theme. The best part about using this option is that your website's content will be displayed on the demo theme you choose.
Option 2: Adding Demo Content theme
As the name suggests, this option will replace your website's theme with the demo theme. As a result, your website's web page will be changed with the demo content. However, your original page will not be deleted, instead, it will be saved in the drafts section.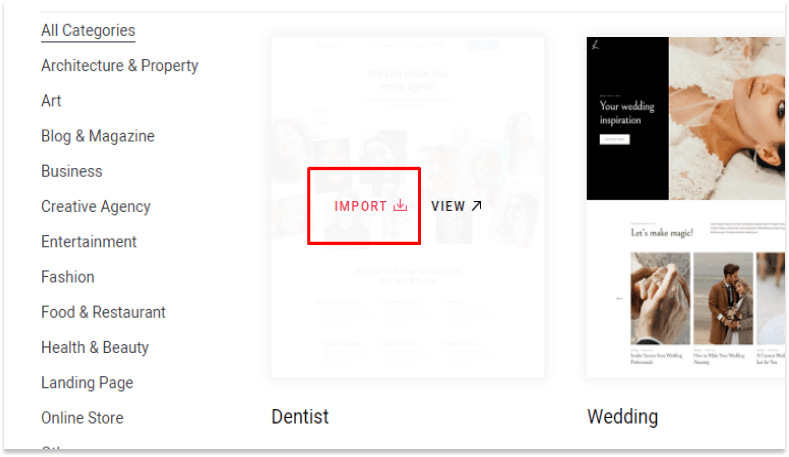 Selecting this option will display the theme's homepage with demo content. In case your theme does not offer demo content, you still have a manual way of displaying the demo on your homepage.
Every theme comes with a guide that contains a set of instructions on setting it up and making it run smoothly on your website. Follow the instructions provided to easily enable the demo content.
Themes And Demo Content From Third Parties
Plugin-enabled sites can use themes developed outside of WordPress.com if the theme is compatible with it.
The demo content of the installed theme is to be imported into the XML file. This file will be provided by your theme provider. To access a theme's demo content, you need to follow a few steps that will help you install demo content in no time. Let me walk you through these.
Step 1
Start by logging into your account's dashboard. Once you have successfully signed in, go to tools and select the import sub-option.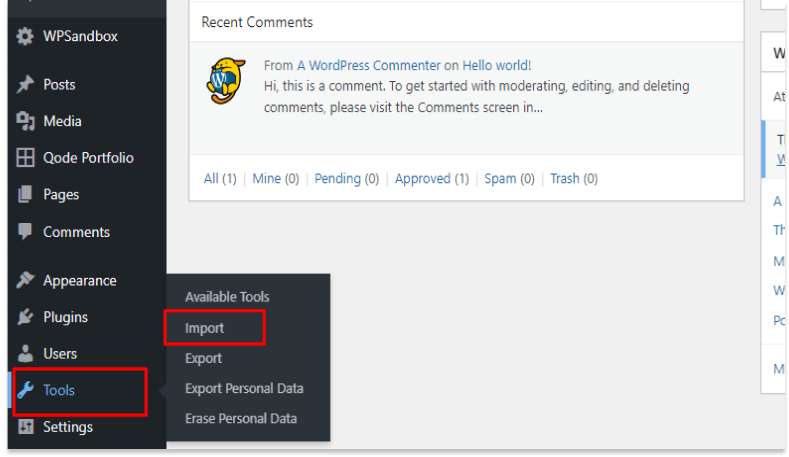 Step 2
In case it's your first time importing WordPress data onto your site, you will need to install an importer first. This will then help you import your files onto the demo content. WordPress provides the option of installing an importer simply by clicking the install option.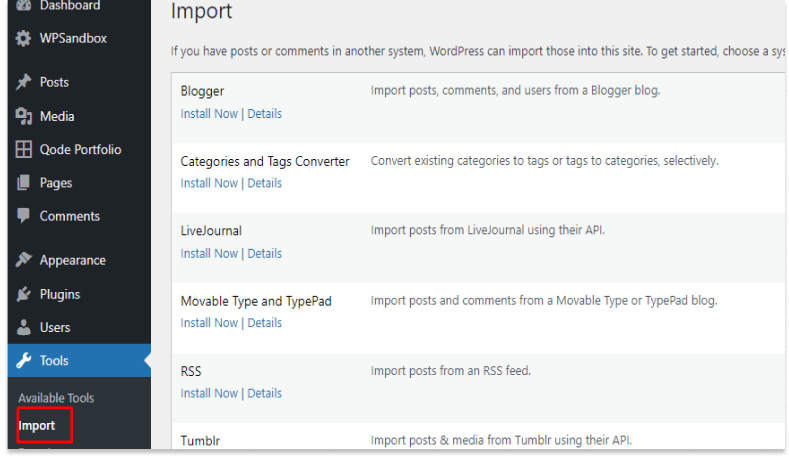 If your theme comes with a demo content XML file, this is surely available for you to use. By navigating to Tools > Import and selecting the WordPress import option, you will be able to upload this file to your WordPress site.
Merits Of Demo Content
Easy to use
Functions are displayed well
Customers get a good overview of all the layout and design of the website they want.
To Wrap Up
When you launch a new website, you will want it to be perfect and have an interactive theme. Moreover, having a visually appealing theme will attract more traffic. However, customizing the theme that best depicts your work can take some time. The use of a demo theme will give you ideas for customizing your theme. You can use it to experiment with where to put certain content, pictures, and buttons on your website. Later when done, you can easily go with the one that fits well.
Importing demo content is quite easy. All you need to do is follow a set of instructions that are already present on the WordPress website. Moreover, it does not take very long and your site's landing page is updated before you even know it. If you have any issue related to importing demo data You can always hire a WordPress development Expert from Qwerty Experts.