Did you know, the WordPress comments system is one of the most useful tools that allow your readers to leave comments on your posts? It not only lets your users convey their thoughts but also increases post engagement and delivers numerous other benefits. However, this feature could be the one that you would never want on your website simultaneously.
This is because of the steady changes of blogging where comments weren't the central feature for some users. Therefore, several users seek some ways to disable comments in WordPress. Although comments are one of the best means to connect with the audience, still if you want to disable them, you're at the right place. For example, an online store selling pledy pokrivala (in Ukrainian пледи покривала) use comments in WordPress to analyze the data. So comments help to understand whether customers like the product, what to change or add, etc.
I have brought two incredibly proven ways to disable comments in WordPress permanently.
Using WordPress Built-in options
Installing a suitable plug-in
Before moving to our main topic, let me tell you why you need to turn off comments?
Why Is There a Need to Turn Off the Comments?
WordPress is undoubtedly the best platform to start a new website and platform. With all these signs, there are some factors that can affect your progress and reputation in the market. Unusual suggestion and link that a third party made in your comment sections is one of them. Therefore, WordPress comes with some choices where you can block a person from pasting biased and discouraging remarks that trouble your business.
With the help of this, you can get going and rank in the market without worrying about anything.
WordPress Built-in Options
The first and most straightforward way to turn off comments WordPress is by using WordPress' own setting options. These threads deliver clear and easy-to-follow instructions. Below are the steps to get this process done in just a few minutes.
Go to the dashboard setting option and select "discussion."
You will get plenty of options there; go through if you want to, but the main option that you have to choose is "Allow people to submit comments on the new posts" uncheck this choice to disable comments completely in WordPress.


If you are into new business and don't want to allow people to share statements, doing this procedure will end this journey.
This was the whole method to disable all the comments WordPress, but you might be pleased to know that WordPress has some other built-in options for you. You can also block comments either post-wise or in bulk. Knowing this practice is essential for you too, once your business gets famous it will help you a lot.
Deactivate Comments on Individual Post
There are some posts where you don't want other people to give their suggestions or write anything that may affect your website's trustworthiness. Following is the process to deactivate the comment option in a single post to sustain your reputation.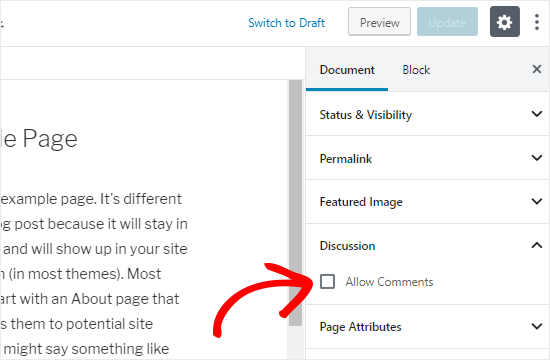 Click the "post menu" on the right side of the menu. Choose the "discussion" option and find "disable comments for the post."
See, it's simple as pie!
But what if that option doesn't show up? Don't panic; there is always a solution to the problem. WordPress has some other choices where you can do this process, but you might find this one tricky.
Fortunately, I have made this simpler for you. All you have to do is, follow this simple guideline:
In the "traffic light" menu, select "preferences."
A box will be shown; after that, you will get the option of "discussion."
Choose that option and follow the same process discussed above.
Disable Comments in Bulk
WordPress, how to disable comments on multiple posts at one time? Well, it's an important question asked by many web owners since they are concerned about their prestige and privacy. But, the fascinating thing is that it's way too easy, like another process.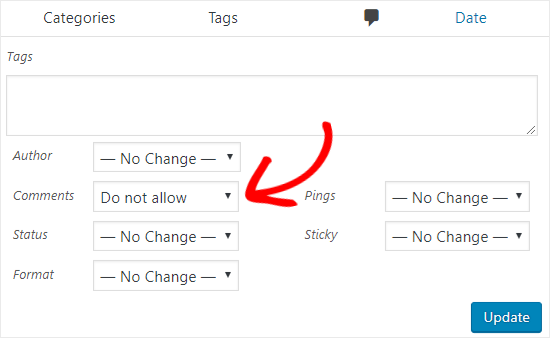 Choose those posts you want to deactivate comments on
Select the posts option and change the" edit" option into" bulk action."
Click on the "apply" button.
After that, you will be given a lot of options, considering suitable one allows to disable comments.
Press the "update" button, and your comment section from chosen posts will be blocked.
Install a Suitable Plug-in
Have you ever wondered what if people commented on your post that you don't want them? In that case, installing a suitable WordPress plug-in is the best option. Through this, you are able to block comments on single posts as well as disable suggestions made by media. You will also be able to delete your whole database.
You might have found this safer and ideal option to opt for. Right? But how to do this? Relax! It's just a piece of cake.

Install and activate the latest plug-in
In the "preference "menu settings, select "disable comments."
There you will get plenty of options like turn-off comments on single or multiple posts, everywhere or with API.
Go for the most suitable one.
Final Thoughts
Comments are indeed the best way through which you can contact the audience on your website, but sometimes they can affect your progress. Therefore, it is essential to know the pros and cons of suggestions and change the setting of your website timely. I have given effortless and fundamental ways through which you can do this process. If you still need any WordPress service feel free to Contact Us.
Moreover, I know that you might have some more questions; hence, I have tried to answer frequently asked questions by web owners.
FAQs
➤ What are the best plug-ins for comments in WordPress?
Following are the famous and latest plug-ins that are very significant to control the comment section in WordPress.
Jetpack
Reply box
Disqus
wpDiscuz
Postmatic, etc.
➤ Is Akismet necessary when comments are turned off?
No, it's not essential because Akismet is an anti-spam comments plug-in.
➤ Is Akismet a free plug-in?
It's free for personal use, but in terms of business use, there are several packages and offers for web users,
➤ What is the simplest way to turn off comets on one post?
Below is the easiest way if you want to stop comments from one post immediately. You need to follow these steps:
Click on the three dots that are present on the right side of the post
Press turn off commenting
Suggestions will be disabled.