Shopify is a well-known online shopping platform around the world. Currently, millions of merchants use this platform to run their profitable online businesses. If you're an entrepreneur looking for a flexible platform to run your online store, Shopify is the way to go.
Therefore, a free trial of the Shopify store is recommended before purchasing a monthly subscription. You can use this free trial to determine whether or not Shopify is a good cultural fit. You can always terminate your Shopify free trial before it expires. Your online store will be frozen, and you will not be charged. You can reopen your account by selecting a monthly membership plan if you change your mind within the first 30 days of freezing. Otherwise, after 30 days, your store will be completely erased.
You can quickly cancel your Shopify free trial subscription if you have decided to do so. We've gone over the cancellation procedure in great detail. Before looking for how to cancel Shopify free trial, let's take a look at what you can get out of a 14-day Shopify free trial first.
Benefits Of Shopify Free Trial
The Shopify free trial can let you achieve the following benefits.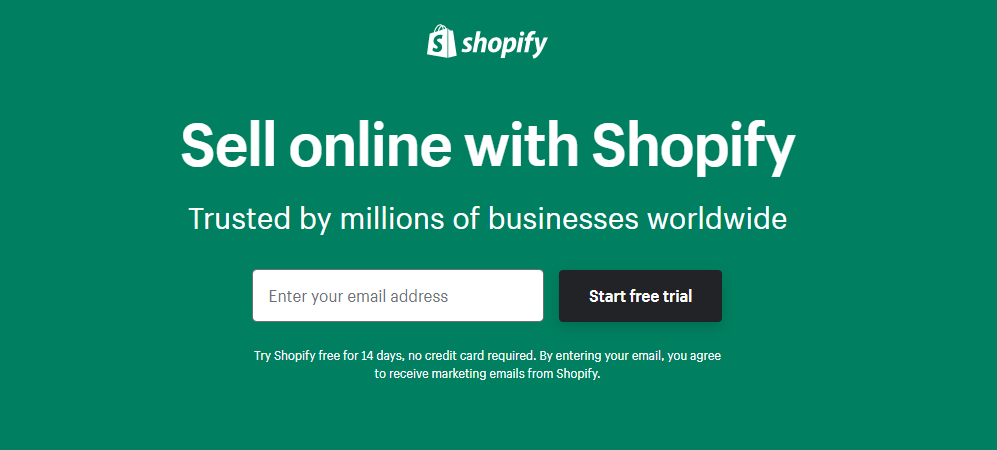 ➔ Make Your Customized Digital Shop
You may start your own digital store with Shopify's free trial. You can modify the store to fit your business's tone, and you can also advertise it on social media.
➔ Select The Payment Methods
Shopify accepts a variety of payment methods. You can pick the one that is most appropriate for you and has the lowest tax rate..
➔ Attach Your Products
You can add products to your free trial Shopify Store for free. You can check to see if these products are visible to customers after you've added them.
➔ Organize Your Products
You can organize your different products into separate collections. This will allow your customers to navigate your site easily and can make a buying decision.
➔ Access To Third-Party Apps
You can have access to third-party apps and plugins which increase the visibility of your store. These plugins and apps provide additional functionality to your Shopify store so you can run your online store without any hassle.
➔ Offers Free Domain Name
The free trial also lets you make your online store look unique by adding your own domain name. This unique domain name saves you from making your store domain a subdomain of Shopify. This unique domain casts a more professional look on customers.
Also read out: How to Remove Powered By Shopify From Your Store
Factors To Consider Before Canceling Shopify Free Trial 
Before canceling your free trial or purchasing a Shopify account, you need to know a few facts which we have discussed here.
➔ Cancel Subscription to Third-party Apps
If you are going to cancel the Shopify trial then be mindful of the purchased apps and plugins you have paid for. If you cancel your free trial and delete your account then your subscription will be wasted. Moreover, if you have not canceled the subscription to the apps properly then they may charge you for the next month.
➔ Create Back-up Data
Before canceling the free trial, it's advantageous to create a backup of your Shopify data. If you plan to try Shopify again then you can use this data.
➔ Automatic Deletion
Because the free trial is just for 14 days, your account will be automatically paused after that time. Further, your Shopify free trial will expire after 30 days if you don't restart. As a result, it's best to take advantage of the free trial and gain some Shopify expertise.
How To Cancel Shopify Membership
You can cancel your Shopify subscription by following these simple steps.
First of all, you need to unsubscribe from any third-party purchased apps. If you cancel your free trial account without unsubscribing, these third-party apps can charge you for next month's subscription payment.
You also need to transfer your Shopify domain to another forum. Otherwise, your domain will be deleted with the Shopify account deletion.
Now go to the administrator page and put your login details.
From this admin dashboard after entering the password, you can access the 'Settings' of your Shopify store.
Select the 'Plans' option.
An option 'Cancel Subscription' will pop up on your screen. There is also another option to sell your account or pause your account. You can sell your account on an open marketplace instead of deleting it.
Once you click on Cancel Subscription and close the store, the store will ask you the reason for deletion. You can select any from the drop-down menu.
Now Shopify will again ask you for your login details for confirmation.
Enter the login details and close the store, your store will be frozen. After 30 days it will be deleted completely.
Or if you are confused and still don't know how to do that you can hire our Shopify development experts and let them handle all things for you.
Limitations Of Shopify Free Trial
Shopify's free trial is designed in such a way that you can test or learn online marketing on it. But, in order to start selling and receiving orders, you need to get their paid plans. Therefore, most entrepreneurs deactivate their free trial account after testing it thoroughly.
Related articles:
Easy Way to Change the Shopify Store Name