Would you like to lose your well-established WordPress site just because of a glitch or hacking? The answer is obviously no. No one wants to lose their well-built site which took them years to establish. So how to prevent the loss of your website? The simplest answer is to have a backup of your website.
What if I tell you that you can restore your lost site with just a click, you would definitely think that I am kidding. Well, I am not, this is what having a WordPress backup will do for you. If you have a backup for your WordPress website, you do not need to worry about losing your data to some hacking attempt or faulty plugins. You will be able to restore your website to its full glory.
Besides having backup plugins, there are several methods that can be used to create a backup for your WordPress site. Let me walk you through this magical process of how to backup your WordPress site?
Why Do I Need A WordPress Backup?
There is no one who likes to lose their WordPress site, and that's why we need a backup. Therefore, backups are performed to make sure all the data is saved. Your WordPress backup can contain anything and everything from your website including files to databases. These can also be stored as zipped files on your hard drive which provide additional security. This is possible when you are doing a manual backup. Backup can also be stored in Google drive or Dropbox if you are using any wordpress plugin like UpdraftPlus, Vault Press and Backup Buddy etc.
Having a WordPress backup is essential especially whether you run an online business or have a blog with huge traffic. The backup ensures that you will get all your website's data back with one click if it's lost due to any hacking attempt or plugin errors. Lacking a proper backup means that your data can be lost at any time and there is no way to restore it. In simple words, we all have backups for our phones to make sure we do not lose important stuff in case of a technology mishap. Similarly, a WordPress backup will save you a lot of trouble in the event of any malware attacks.
Let's unfold the different methods of WordPress backup!
Related article: 7 Simple Steps to Secure your WordPress Website
Method 1: Using Plugin To Backup WordPress Site
Plugins are a lifesaver when it comes to WordPress. Similarly, there are several free and paid plugins available that will help you backup your WordPress site with just a click. These are divided into two broad classes depending on the type of backup they provide.

Type 1: Full Site Backup
As the name suggests, the full site backup plugin will backup all the files and documents present on your website. This is like creating another copy of your website.
Type 2: Incremental Backups
These types of plugins do not create backups every now and then. Instead, these come into play when you make any changes to the website. Therefore, these have the advantage of taking less space.
The general steps for baking up a website's data using plugins are almost the same. These are explained below.
Step 1
Once you have installed a plugin, go to its backup dashboard in the settings bar and press 'backup now'.

Step 2
Choose the set of files and databases that you want to backup. Confirm the dialog box and proceed.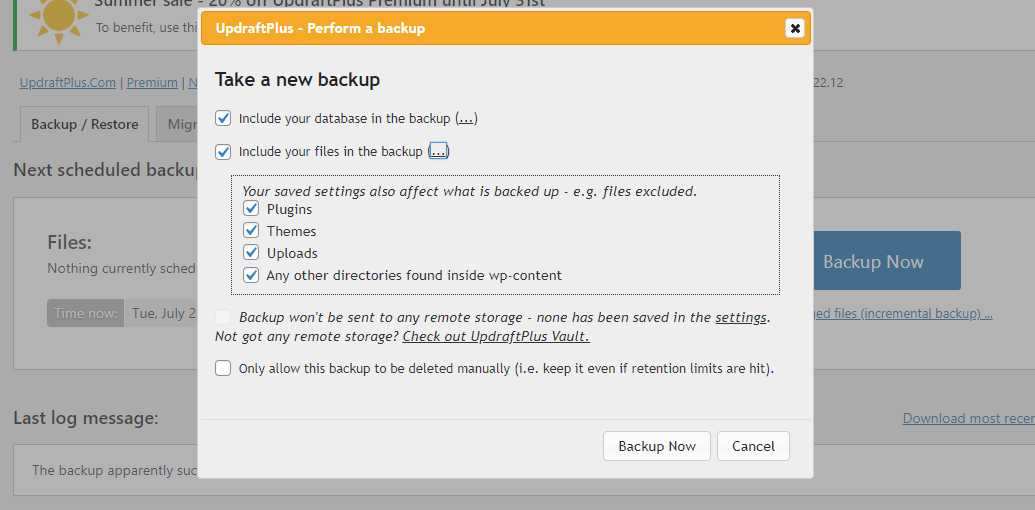 Step 3
Once you have selected all the files and confirmed the backup process, let your plugin handle the rest. When it is done backing up all your data, your website will return to its normal state.

Now, if your website is hacked, all you need to do is select the restore option on your plugin. It will ask you the type of restoration you want (whether complete or some files), you can select the desired one and get your website back running smoothly.
Best WordPress Backup Plugins On The Market
There are several WordPress plugins available each serving its own unique features. You can choose as per your requirement and subscription budget.
Updraft vault
VaultPress (Jetpack Backup)
BackupBuddy
BlogVault
BoldGrid Backup
Method 2: Backing Up Your Site Using Web Host
The usage of a web host is another common method used to create a backup of your WordPress site and restore it when needed. The type of host you use determines the types of backups. Some hosts offer automatic backups while others need you to give commands to backup your data.
Step 1: Select All The Files
When using a web host, you will need to select the files that you need to backup and in case of any emergency, you will be able to restore it all.
Step 3: Specify The Timeline
When you choose to restore your website, several backups appear with time and you can choose the one to restore. Once you have chosen the specified timeline for backup, select the option and move on to complete the backup.
Step 4: Complete The Backup
After selecting a timeline and file location, all you need to do is wait for your data to get backed up and it is done.
Pro-Tip
It is not sensible to rely completely on your hosting website for your backup. One way to keep your data safe is to save it on a hard disk. You can do this by logging in from time to time and downloading a zipped file of your backed-up data. This is an additional protection.
Method 3: How To Manually Back Up WordPress Site
Apart from using hosts and plugins, you can also manually back up your WordPress site. This is a rather tedious method. Nevertheless, one should know how to manually backup WordPress site too in case everything else fails.
Step 1: Locate Directory
You can access the File Manager by navigating to the dashboard after you log into CPanel.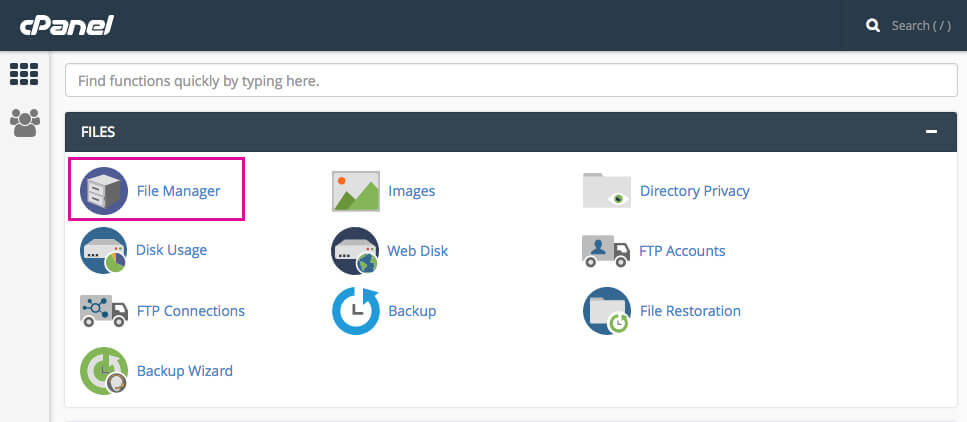 Step 2: Convert To Zipped Files
Click the File Manager navigation bar, then select the folder 'public_html' on the right-hand column. You may need to move between folders to find it. Using your mouse, click the folder name and then click Compress. Do not double-click the folder name as this will open the folder. The zip archive will appear and you can compress the files by clicking it.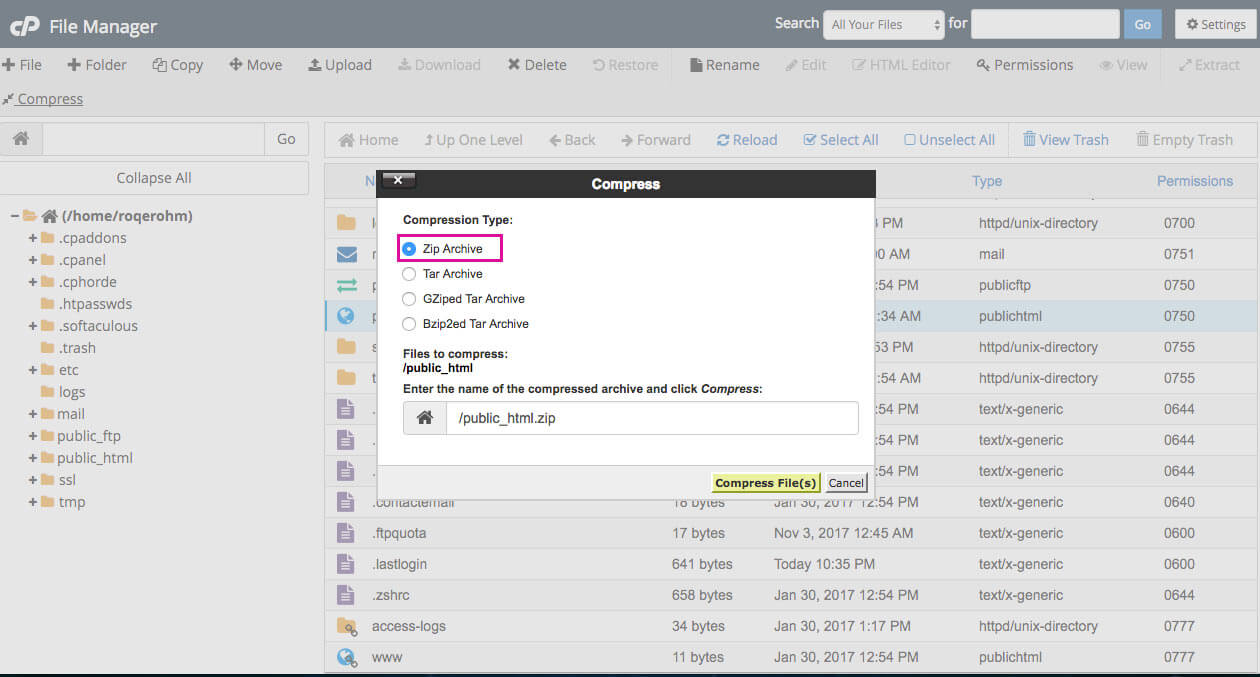 Step 3: Download Files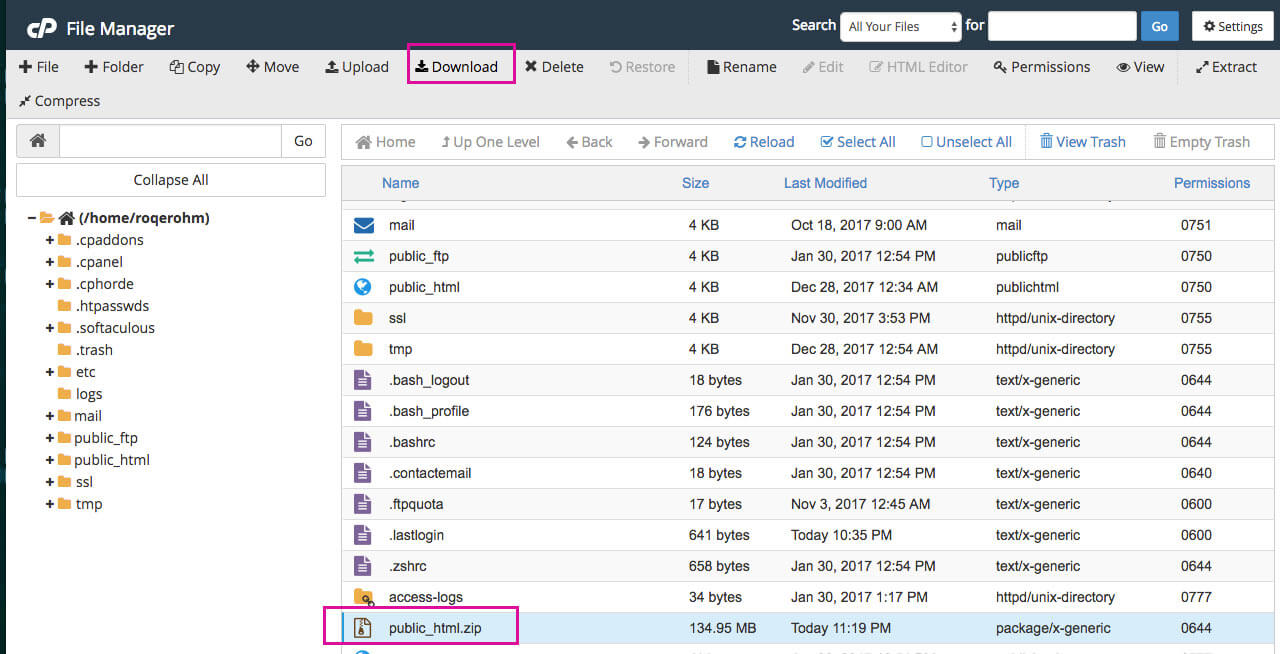 Click Download when the 'public_html.zip' folder has been compressed. It is important to remember that after the download is completed, you will have to delete the .zip file on your server. Otherwise, it will take up extra space. This procedure is suitable if you are wondering how to backup WordPress site Cpanel.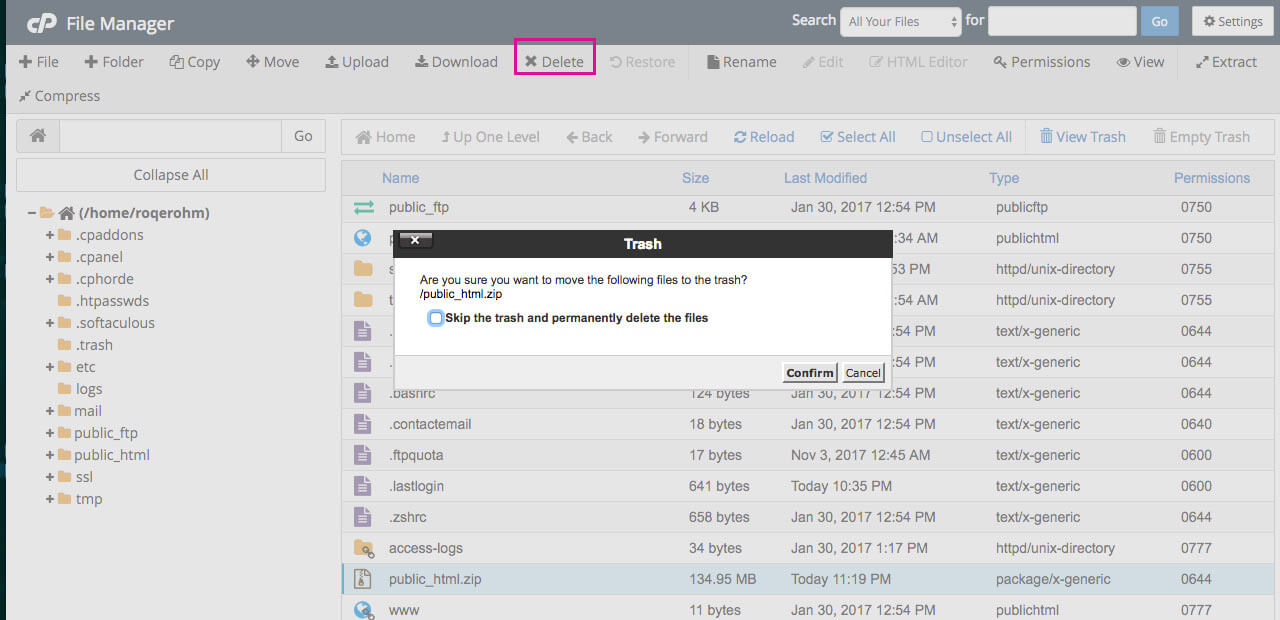 In case your host lacks a cPanel, then you can use FTP to backup and download all your files. By using FTP, you can transfer files from one computer to another easily by a client-server method. Therefore, you can easily download the copy of all the files from your website.
WordPress Backup Using DropBox Plugin
One of the most trusted and widely used plugins for backing up WordPress site data is DropBox. It is quite easy to use and serves a good purpose.
Step 1: Installation
You can search the WordPress DropBox plugin and use the installation option to install it. It will just take a few minutes.
Step 2: Connect With DropBox
Once you have installed the plugin, you need to make it the default option for file backup of your website. This is done by agreeing to the authorization option after putting in your login details.
Step 3: Continue Setup
After giving authorization permission, you need to continue setting up this plugin. For this, go to your WordPress main page admin option and click continue.
Step 4: Select Backup Files
Go to the backup settings and select the files for the backup. After this, choose your desired folder to store all the backup files. Clicking on Start Backup will start the backup of your website.
DropBox also allows you to customize your backup time. Therefore, you can select the duration between backups. These can be days, weeks, or months.
Features Of A Good WordPress Backup Plugin
When choosing a backup plugin for your WordPress site, we all need the best one. Therefore, there are some salient features that will make it a great backup option.
The backups should be end-to-end encrypted and protected from any malware attack.
These should come with flexible and higher backup schedules. They should allow daily, monthly, and weekly backups.
The backups should be automatic. The best backup options are those that do not require any manual commands and are carried out automatically from time to time. This way, you do not need to worry about scheduling your site's data backup.
Look for an option that does not restrict the amount of data that can be backed up. Websites have several terabytes of data and therefore their backup requires good space.
Make sure that your backup option is reliable and that it will not crash when you need to restore. Therefore, choose wisely.
Final Word
Anything can go wrong in the world of technology. Faulty plugin, bad hosting, or a malware attack can lead to your website crashing in seconds. Therefore, in order to restore it, you will need to have a good backup. There are several options to choose from and if you land a good backup option for your website that has unlimited space and will automatically backup all your files and databases, consider your website safe.
Related article: How to Clone a WordPress Site in Minutes