Sven & Son is a distinguished online retailer specializing in premium mattresses and adjustable bed frames. With a commitment to providing customers with the ultimate sleep experience, the company has established itself as a trusted name in the highly competitive mattress industry. Their website, svenandson.com, serves as the digital storefront for a global customer base seeking quality sleep solutions.
Technology:
Shopify, Cloudflare, Google Analytics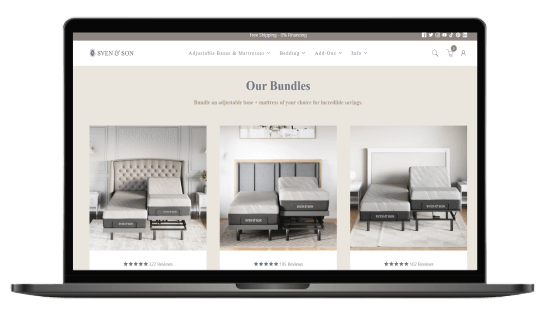 Creating and launching the Sven & Son website presented several noteworthy challenges:
Sven & Son offers a diverse range of mattresses and adjustable bed frames, each with unique features and configurations. Effectively showcasing this extensive product catalogue while ensuring a seamless user experience was a complex task.
Implementing a robust e-commerce system that supported secure transactions, order management, and inventory tracking was paramount to the website's success.
Ensuring that the website was fully responsive across various devices and screen sizes, from smartphones to desktops, was a significant challenge.
Balancing an aesthetically pleasing design with user-friendliness was essential to engage and retain visitors.
Search Engine Optimization (SEO):
Achieving high visibility in search engine results to attract organic traffic and enhance brand recognition was a priority.
To tackle these challenges and create an outstanding website for Sven & Son, a series of comprehensive solutions were implemented: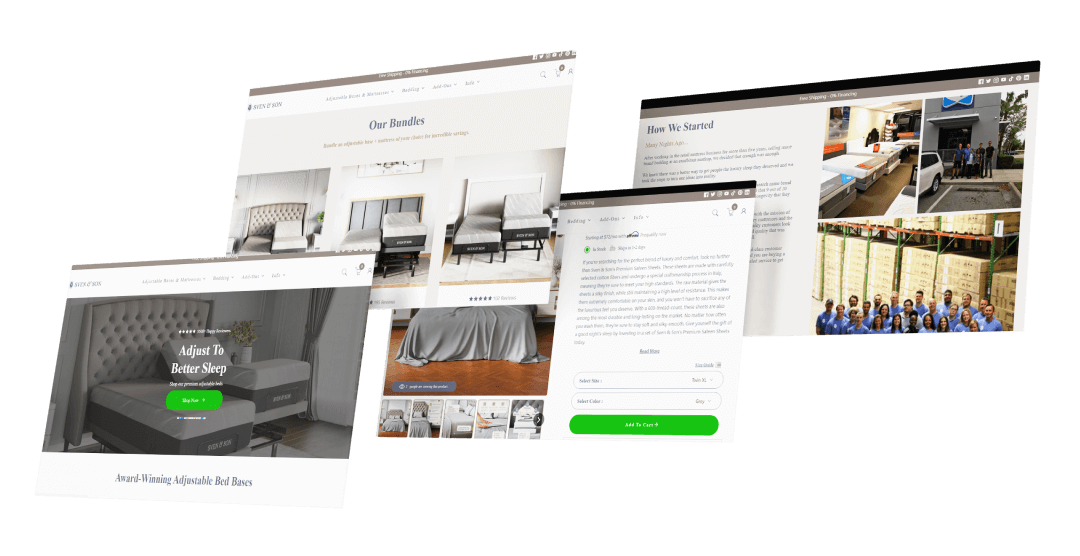 A custom product showcase was designed, allowing visitors to easily explore the extensive product catalogue. Detailed product descriptions, images, and customer reviews were included to aid purchasing decisions.
A robust e-commerce platform was integrated, providing seamless transaction processing, secure payment options, and efficient order management.
The website was meticulously designed and developed with a responsive framework, ensuring that it delivered an optimal experience across all devices and screen sizes.
The user interface was thoughtfully crafted, combining elegant aesthetics with intuitive navigation. This included clear calls to action, streamlined checkout processes, and an informative blog to engage and educate visitors.
A comprehensive SEO strategy was implemented, encompassing keyword research, on-page optimization, and content marketing. This strategy aimed to enhance the website's visibility in search engine results and attract organic traffic.
The results of the Sven & Son website project were nothing short of exceptional:
The user-friendly interface, paired with an efficient e-commerce system, led to a significant increase in sales and revenue.
Enhanced User Experience:
The website's responsive design and product showcases improved the overall user experience, resulting in higher customer satisfaction and reduced bounce rates.
Improved Brand Visibility:
Through diligent SEO efforts, Sven & Son achieved higher rankings in search engine results, attracting organic traffic and enhancing brand recognition.
Positive Customer Feedback:
The website received positive feedback from customers who praised its usability, informative content, and ease of making purchases.