Shop Birdie Box is a well-established online retailer specializing in unique golf-themed gift boxes and subscription services. With a strong presence in the golfing community, they offer a wide range of high-quality products curated for golf enthusiasts. However, despite its success, Birdie Box recognized the need to enhance its online shopping experience to meet evolving customer expectations and grow its business further.
Technology:
Shopify, jsCDn, Cloudflare
The existing website had an outdated and cumbersome design that hindered user navigation, resulting in a high bounce rate and a suboptimal conversion rate.
Limited Mobile-Friendliness:
Birdie Box's website was not fully responsive on mobile devices, which posed a significant challenge as a growing number of users shopped via smartphones and tablets.
The website's user experience needed improvement, as customers often struggled to find products, customize gift boxes, or access relevant information about subscription plans.
Inefficient Checkout Process:
The checkout process was complex and lengthy, leading to cart abandonment and lost sales opportunities.
The website had underutilized SEO, affecting organic traffic and search engine rankings.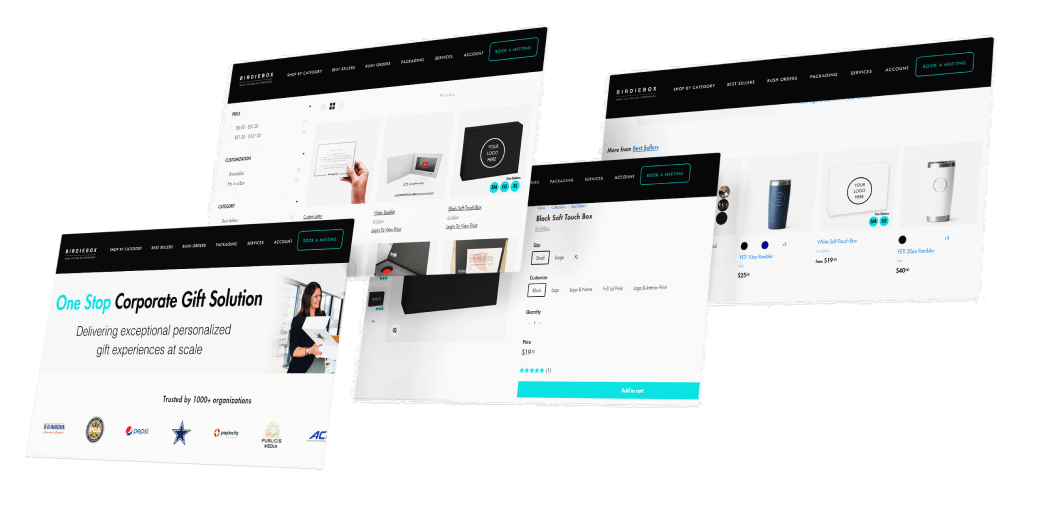 We proposed a complete website redesign, focusing on a clean, modern aesthetic that resonated with Birdie Box's target audience. This included an updated colour palette, improved typography, and high-quality visuals.
We ensured the new website was fully responsive across all devices, offering a seamless shopping experience for mobile users.
Enhanced User Experience:
To improve user experience, we conducted extensive user testing and implemented user-friendly navigation, intuitive product categorization, and a robust search function. We also added clear call-to-action buttons and streamlined the product customization process.
Streamlined Checkout Process:
The checkout process was simplified, reducing steps and enabling guest checkout options. We integrated secure payment gateways and introduced multiple payment options.
We conducted thorough keyword research and implemented on-page SEO best practices to boost organic traffic. We also developed a content strategy to regularly update the website with relevant golfing content, including blogs and videos.
Improved User Engagement:
The website's bounce rate decreased significantly, indicating that users were engaging more with the content and exploring products
Mobile sales saw a substantial increase, demonstrating the effectiveness of the responsive design in catering to mobile users.
Enhanced User Satisfaction:
User feedback indicated a substantial improvement in the shopping experience, with customers finding it easier to navigate the website, customize gift boxes, and complete purchases.
Increased Conversion Rates:
The streamlined checkout process led to a notable increase in conversion rates, resulting in a higher ROI.
Organic traffic and search engine rankings steadily improved, leading to greater online visibility and attracting more potential customers.