Set For Set is a fitness equipment company that specializes in providing high-quality resistance bands, kettlebells, and other fitness products. Founded by fitness enthusiasts, the company aims to promote health and wellness by offering durable and versatile workout equipment suitable for individuals of all fitness levels. Set For Set is known for its commitment to quality and innovation in the fitness industry.
Technology:
Shopify, Cloudflare, Google Analytics
When Set For Set approached our web development team, they were facing several challenges with their existing website:
The existing website had an outdated design that did not reflect the company's commitment to quality and innovation.
The website had navigation and user experience issues, making it difficult for customers to find and purchase products.
The website was not optimized for mobile devices, which was a significant drawback given the increasing use of smartphones for online shopping.
Set For Set wanted to expand its online presence and offer customers a more interactive and informative experience. This required the addition of features such as product customization options, workout guides, and a blog section.
Performance Optimization:
The website suffered from slow loading times and needed performance optimization to improve user satisfaction and search engine rankings.
To address these challenges and create a modern, user-friendly website for Set For Set, our web development team implemented the following solutions: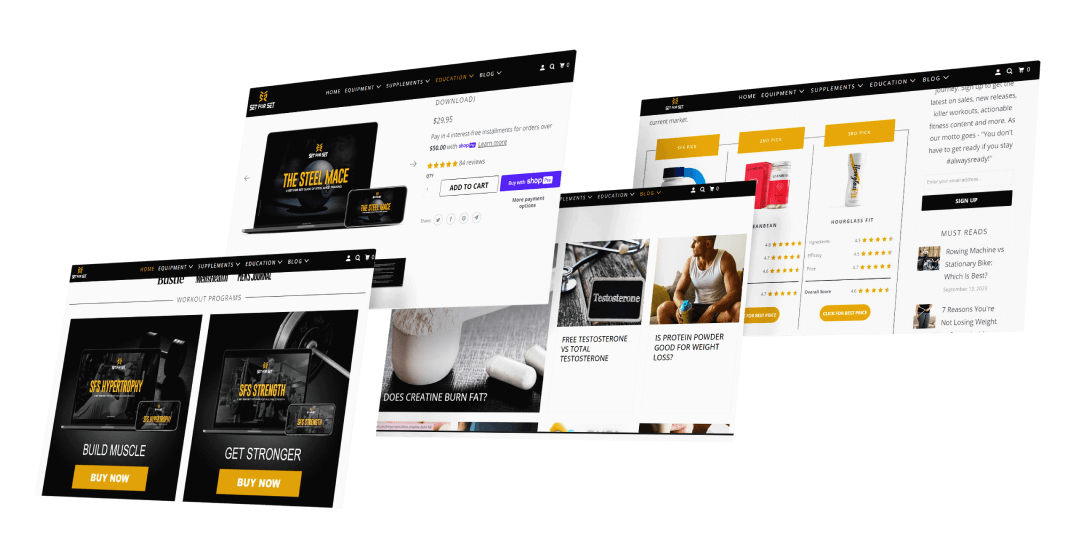 Redesigned User Interface:
We designed a fresh, modern user interface that aligned with Set For Set's brand identity. The new design emphasized visual appeal and usability.
We restructured the website's navigation to make it more intuitive, ensuring that visitors could easily find the products they were looking for. We also implemented an advanced search feature.
The website was made fully responsive, ensuring a seamless experience for users on smartphones and tablets.
We added custom features such as a product customization tool that allowed customers to choose the colour, resistance level, and quantity of resistance bands. Additionally, we integrated a blog section for fitness articles and workout guides.
Performance Optimization:
We optimized the website's performance by compressing images, implementing caching, and utilizing content delivery networks (CDNs) to reduce loading times. This not only improved user experience but also boosted search engine rankings.
We integrated an efficient e-commerce platform that facilitated secure and convenient online transactions, including multiple payment options and a streamlined checkout process.
We conducted keyword research and implemented on-page SEO best practices to enhance the website's visibility on search engines, driving organic traffic.
Content Management System (CMS):
We implemented a user-friendly CMS that allowed Set For Set's team to easily update product listings, blog posts, and other content without technical expertise.
The redesigned website with improved navigation and a streamlined checkout process led to a noticeable increase in sales and conversion rates.
Enhanced User Experience:
Users reported a significantly improved experience on the new website, resulting in lower bounce rates and increased time spent on the site.
The responsive design attracted more mobile traffic, tapping into a larger audience and increasing the potential customer base.
The addition of the blog section and workout guides positioned SetForSet as an authority in fitness, attracting more visitors and increasing engagement.
SEO optimization efforts resulted in higher search engine rankings, bringing in more organic traffic and reducing reliance on paid advertising.
The new CMS made it easy for Set For Set's team to update content and product listings, reducing maintenance time and costs.