BPI Sports, a prominent player in the sports nutrition and supplement industry, has been dedicated to helping fitness enthusiasts and athletes achieve their performance goals for over a decade. With a wide range of products designed to enhance fitness, muscle growth, and overall well-being, BPI Sports has earned a solid reputation among its loyal customer base.
As the digital landscape evolved, BPI Sports recognized the need to revamp its online presence to stay competitive and continue providing exceptional products and resources to its customers. They approached our team with the challenge of not only updating their website but also ensuring it aligned with their brand image, delivered an exceptional user experience, and facilitated seamless e-commerce transactions.
Technology:
React, Shopify, Google Analytics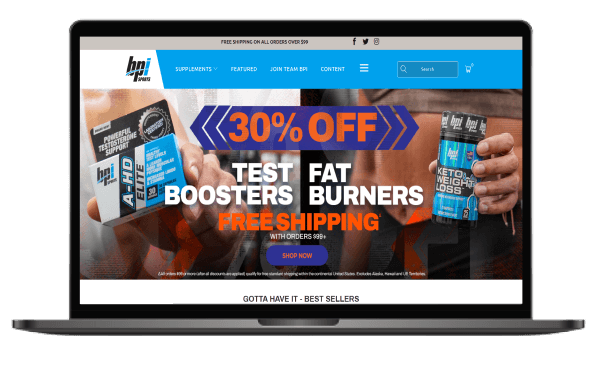 When embarking on the journey to create a new website for BPI Sports, we faced several critical challenges:
The existing website was outdated and did not reflect the brand's current identity or product offerings.
The site needed a complete UX overhaul to make it more user-friendly and intuitive for visitors to find products and resources.
BPI Sports required a robust e-commerce platform that could handle a high volume of transactions securely.
With the increasing use of mobile devices, the website had to be responsive and perform well across various screen sizes.
Developing a coherent content strategy that effectively communicated BPI Sports' brand values, product benefits, and fitness expertise was paramount.
SEO and Online Visibility:
Ensuring the website ranked well in search engine results and attracted organic traffic was crucial for growth.
To address these challenges, we implemented a comprehensive solution that involved a strategic blend of technology, design, and content: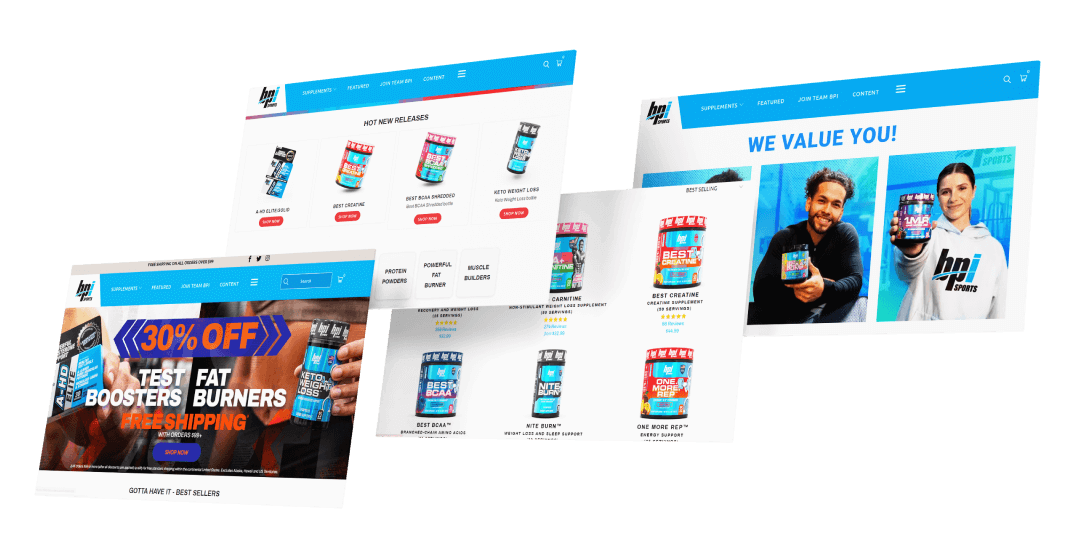 We conducted a thorough redesign of the website, incorporating modern design principles and aligning it with the brand's visual identity. This included a fresh colour scheme, an updated logo, and improved typography.
Our design team conducted extensive user research to understand the target audience better. This informed the creation of intuitive navigation, easy-to-use search functionality, and a streamlined checkout process.
We implemented a robust e-commerce platform that could handle high traffic and transactions securely. This included optimizing the shopping cart, payment processing, and order tracking functionalities.
The website was developed with a responsive design, ensuring that it performed seamlessly on various devices, from desktops to smartphones.
We worked closely with BPI Sports to develop a content strategy that included informative blog posts, product descriptions, and video content to educate and engage visitors.
Our team implemented on-page and off-page SEO techniques to improve the website's search engine ranking. This involved keyword research, optimizing meta tags and creating high-quality backlinks.
The transformation of BPI Sports' website had a significant impact on their online presence and business results:
The new e-commerce platform led to a substantial increase in online sales, with a higher conversion rate and improved customer retention.
Enhanced User Experience:
Visitors now enjoy a user-friendly website that offers easy navigation and a more enjoyable shopping experience.
Improved Mobile Performance:
The responsive design led to a significant boost in mobile traffic and conversions.
The strategically planned content strategy attracted and retained visitors, positioning BPI Sports as an authoritative source in the fitness industry.
The website's search engine rankings improved significantly, resulting in more organic traffic and brand visibility.