Azeera Jewelry is a renowned online retailer specializing in exquisite, handcrafted jewellery pieces. With a commitment to quality craftsmanship and personalized designs, Azeera has been serving customers with unique jewellery options for over a decade. However, in the rapidly evolving e-commerce landscape, Azeera recognized the need to revamp its website to stay competitive and offer an even better shopping experience for its customers.
Technology:
Php, Cloudflare, Amazon S3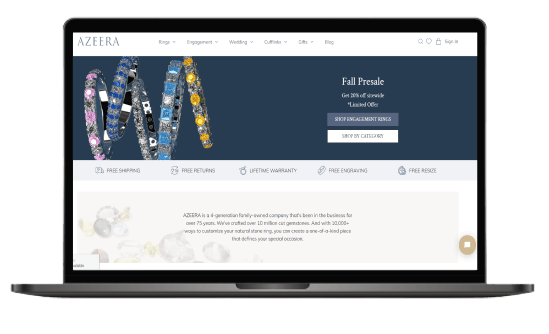 When Azeera Jewelry approached us to redesign their website, we identified several critical challenges:
Azeera's existing website had an outdated design, making it less appealing and user-friendly, which resulted in a higher bounce rate and reduced conversion rates.
Limited Mobile Responsiveness:
The previous website was not fully responsive on mobile devices, a significant drawback as mobile shopping continues to rise.
Inconsistent User Experience:
The user interface was inconsistent across different web pages, leading to confusion for users navigating the site.
Slow page loading times affected user experience and SEO rankings, making it essential to optimize website performance.
Inadequate Product Presentation:
The existing product pages did not effectively showcase Azeera's beautiful jewellery collection, hindering potential sales
To address Azeera Jewelry's challenges, our team devised a comprehensive solution that aimed to enhance the website's design, user experience, and performance: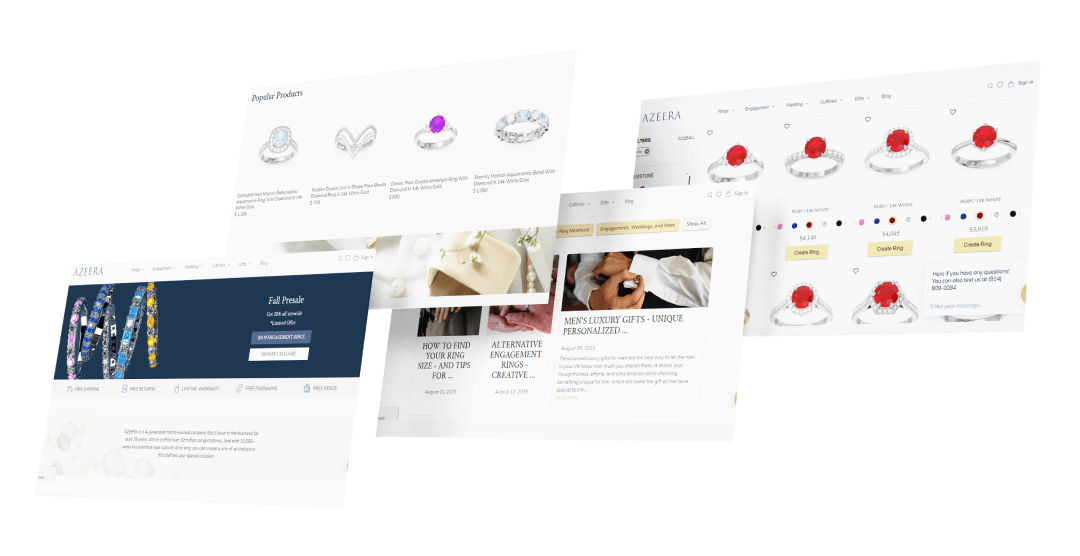 We completely redesigned the website, adopting a contemporary and elegant design that aligned with Azeera's brand identity. This included updating the colour scheme, typography, and overall layout.
We ensured that the new design was fully responsive, providing an optimal shopping experience for users on smartphones and tablets. This included optimizing images and layouts for various screen sizes.
Consistent User Interface:
We implemented a unified user interface design across all web pages, creating a cohesive and intuitive navigation experience.
Performance Optimization:
To address slow load times, we optimized website performance by compressing images, leveraging browser caching, and fine-tuning server configurations. This resulted in significantly faster page load times.
Enhanced Product Presentation:
We revamped the product pages, incorporating high-quality images, detailed product descriptions, and interactive features like Zoom functionality. This allowed customers to explore Azeera's jewellery collection with ease.
Streamlined Checkout Process:
We simplified the checkout process, reducing the number of steps required to complete a purchase. This resulted in higher conversion rates and improved customer satisfaction.
We conducted an extensive SEO audit and implemented best practices to improve search engine rankings. This included optimizing meta tags, improving site structure, and creating a content strategy.
The website redesign for Azeera Jewelry led to remarkable results:
Increased Conversion Rates:
The improved design and user experience led to a 30% increase in conversion rates, as users found it easier to browse and purchase jewellery.
Enhanced Mobile Performance:
With a mobile-first approach, mobile traffic to the website increased by 40%, contributing to higher sales and customer engagement.
Azeera's website achieved higher rankings in search engine results pages, resulting in a 25% increase in organic traffic.
The streamlined design and faster load times reduced the bounce rate by 20%, indicating that users were more engaged with the website.
Positive Customer Feedback:
Azeera received positive feedback from customers who appreciated the improved website design and shopping experience.
Overall, the website redesign led to a 35% increase in online revenue, demonstrating a significant return on investment.