WordPress is the right choice if you wonder which platform you should use for marketing your business virtually. This content management system lets you publish your blogs, build your virtual shops, run your social media platforms or establish forums. 
To boost traffic and manage content on your WordPress sites, you'll need plugins. There are almost more than 50,000 plugins available that you can add to your WordPress sites. These plugins enhance your site's functionality and make it safe from spammers. 
Moreover, for your customized WordPress sites, these best free WordPress plugins help you improve your customer support system so you may have seamless communication with your customers. In addition, these valuable plugins boost your WordPress site speed and make its interface easy to use so visitors can easily navigate your site. This easy navigation ultimately increases traffic to your site.
As many plugins are available, it isn't easy to decide which plugin is more beneficial. Therefore, we have brought the five essential plugins for WordPress that must be installed in your WordPress site so you may save time and let your site rank in SEO optimization. 
Five Useful WordPress Plugins For Beginners
Let's review the most useful WordPress plugins for novices that must be installed on your WordPress sites. 
The basic necessity of every WordPress site is SEO plugins. These SEO add-ins help you to make your content as SEO optimized as possible. 
Therefore, Yoast is the best SEO and best free WordPress plugin that you can install on your WordPress for free. It can easily edit your titles and add metadata to your sites. In addition, the main focus of Yoast is to look at keyword density in your content.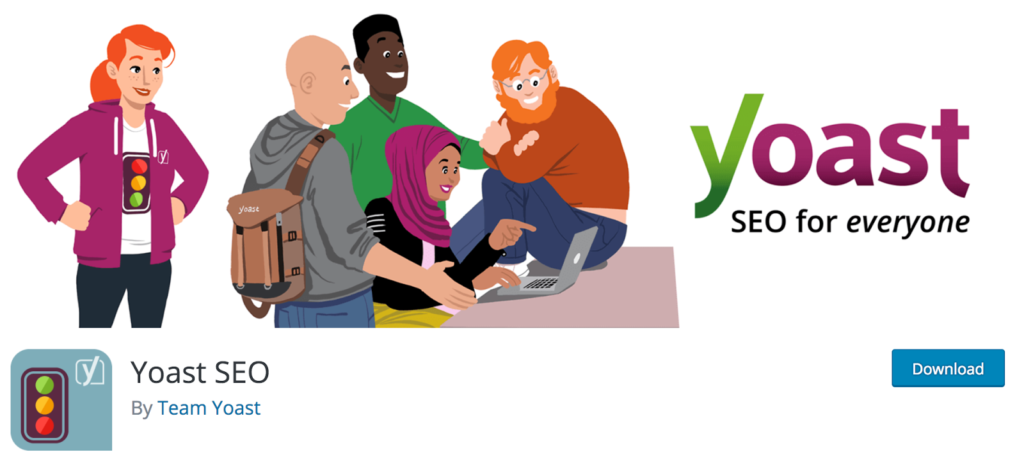 Moreover, the length of your content, including images, is also checked through Yoast. You don't need to look for permalinks, as it can be added automatically to your sites and you can edit through this amazing plugin. 
Furthermore, by classifying your site's links and pages, it helps your site rank in search engine optimization.
The most important feature of this plugin is the XML sitemap. You don't need to create sitemaps if you are using Yoast, as it can be done spontaneously through this plugin. 
In addition, the backlinks of your original posts to the RSS feed are icing on top with this free plugin. 
Moreover, the Yoast breadcrumbs make your site easier to navigate for users. You can add these breadcrumbs on your site but make your current theme compatible with these Yoast breadcrumbs. These breadcrumbs provide readers with an extremely simple outline of where your site's pages are located. 
 You can also get various other valuable features by getting its premium subscription.
If you want to run your WordPress site smoothly, you need to keep track of all updates. As the internet is flooded with hackers these days, you need to protect your site. The WordPress security Plugins can also do this for you.
The WordFence plugin is the finest security plugin for beginners to installing. This free and open-source plugin stops all hackers' entry by blocking botnets, malicious viruses, and fake Google bots. 

There is a firewall that constantly updates you by popping up notifications whenever a threat tries to enter your site. In addition, WordFence also does automatic scanning regularly of your WordPress sites and unrevealed variants or other trojan viruses. 
Moreover, WordFence forces you to add solid and unbreakable passwords to your site so no hacker can hack your site. 
Furthermore, its automatic traffic monitoring helps your site stay safe from robots and other 404 errors. Your site will also be secure from DDoS attacks because WordFence keeps an eye on your disk consumption. 
Related Article: How to Clone a WordPress Site in Minutes
Having a successful WordPress site will always be at the mercy of backup plugins. These backup plugins let you change your site location by creating a duplicate of your site on another location. You can also store your site's data which can be used in an emergency situation. For instance, if you lose all of your site data due to a virus attack or hacking, a backup will always be there to save your life. 
Duplicator is a freeware plugin that allows you to automatically backup your files on a continuous basis. You can also save a manual backup of your site or part of a site's data. Using this duplicator plugin, you can move the site's location by transferring the data to a different server.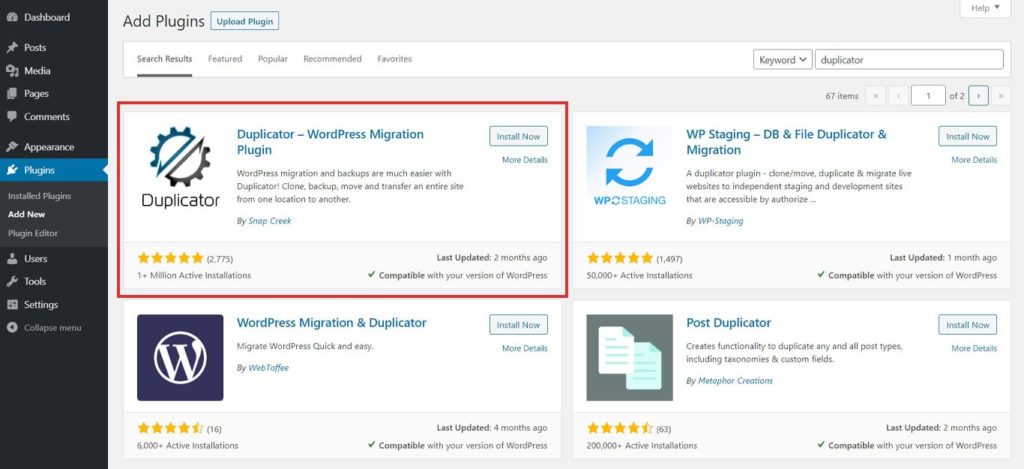 Furthermore, if you get its premium subscription, you can also access Cloud Storages and automatically store your site's data at scheduled times in these cloud storages. 

If you want to rank your site on top of search engines, you also need to look for your site's loading speed. If your site involves bulky images, themes, or caches, you need to clear the extra data through speed and performance regulating plugins. 
The speed regulation plugin 'Total Cache' is untroublesome and straightforward. If you connect various content delivery networks to your site, this plugin allows you to handle large amounts of traffic on your content. The loading time of your site will also be minimized due to this plugin. 
Furthermore, you will never experience increased bandwidth by uploading various images. The credit goes to its features, including minifying, compressing HTML, and caching browsing or data pages. 
Moreover, your site's media files will also be easily accessible to search engines through this plugin. The reason is Total Cache updates your .htaccess links to permanent redirects without changing your original content. 
Customer support plugins should be installed on your WordPress sites if you wish to connect effectively with your clients. Now, most users tend to use Contact Forms instead of chatting directly with customers in the chatbox. These Contact forms can easily collect data from a large population. 
The most widely used plugin for contact forms is Contact Form 7. Installing this plugin enables you to create as many customized forms as you want. You can create multiple niche forms through multiple emails as every email will be specific to one form and its autoresponder. 

Moreover, You can also share these forms across various platforms or give them a code so that they can be easily placed in various text widgets. 
How Do WordPress Plugins Work?
WordPress add-ins are basically extra features for your WordPress site. Introducing these plugins to your sites makes them more simple, basic, and useful. 
For introducing these extra characteristics into your site, you need to install them through the administrator page. There is no limit on adding the number of plugins. You can add till you are not sure that your site is much more functional now. 
Moreover, if you find out that a certain plugin is not useful anymore you can simply delete them from your sites.
Overall, various other paid add-ons are available that can make your site a more operational  WordPress site. Here, we have gathered the free ones that are uncomplicated, so you can instantly boost your WordPress site performance using these plugins.
If you want a Professional WordPress developer then you can get benefit from QWERTY Experts Worpdress development services.